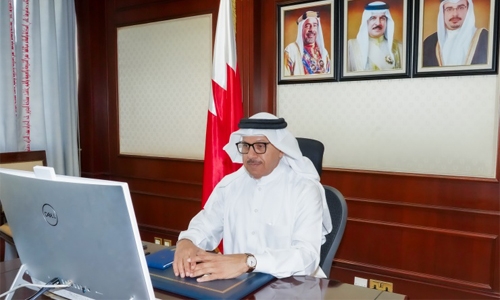 Royal support for Bahraini youth
TDT | Manama
The Daily Tribune – www.newsofbahrain.com
Bahrain is committed to advancing Bahraini youth and providing the needed environment for them to excel and achieve their aspirations. This is in line with the directives of His Majesty King Hamad bin Isa Al Khalifa, and the relentless efforts of the government, led by His Royal Highness Prince Salman bin Hamad Al Khalifa, the Crown Prince and Prime Minister.
Foreign Affairs Minister Dr Abdullatif bin Rashid Al Zayani made the statements while addressing the virtual open meeting held within the second phase of the "Future Bet" Programme yesterday.
It was organised by the Bahrain Institute for Political Development (BIPD) for the 18-29 age group, featuring online training sessions and workshops on various issues that involve enriching discussions by a number of senior officials and decision-makers.
During the session, Dr Al Zayani affirmed the importance of supporting Bahraini youth as the Kingdom strives to highlight its distinguished position at all regional and international forums.
The Minister reviewed the pillars of Bahraini foreign policy, which is based on promoting the values of peace and spreading its culture in the region and the world, consolidating the values of human rights and highlighting the most important Bahraini achievements in this field, whether legislative or practices, as well as achieving sustainable development and desired prosperity as an essential part of the Kingdom's foreign policy and highlighting the Kingdom as an economic gateway to the GCC.
He also emphasised the vision of Bahrain on foreign policy, which stems from the vision of His Majesty the King, which is based on adherence to the rules of international law and various international treaties and charters, building friendly relations with various countries of the world.
Dr Al Zayani emphasised the principle of non-interference in the internal affairs of countries, working to resolve disputes by peaceful means, strengthening good-neighbourly relations in the region and the world, defending just causes, foremost of which is the Palestinian cause, assisting the international community in combating terrorism and its financing, and combating terrorism and extremism.