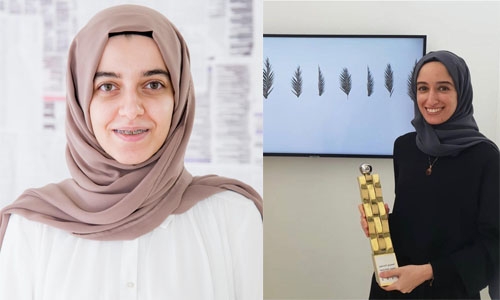 Two Bahrain University graduates win at Bahrain Fine Arts Exhibition
TDT | Manama
The Daily Tribune – www.newsofbahrain.com
Two graduates from the University of Bahrain took the first (Al-Dana) and third spots at the 47th Bahrain Annual Fine Arts Exhibition. The event was under the patronage of His Royal Highness Prince Salman bin Hamad Al Khalifa, the Crown Prince and Prime Minister.
Maryam Al-Nuaimi, a graduate of the Bachelor of Architecture and Interior Design programme at the UoB, grabbed first place for her work "Water Changes", competing against 57 artists.
Al-Nuaimi said her artwork focuses on the human relationship with the urban and environmental fabric and its impact on each other. Al-Numai explained that her work is an attempt to look at the influence of water on Bahraini society. "Before oil, water was the element of life for people here, and they used to settle where there was water in abundance."
Al-Nuami said her work look at water in its "emotional, geographical and political dimensions, which provides us an opportunity to reflect on the condition of the water bodies around us." Jumana Al-Qassab, a graduate of the Bachelor of Arts and Design programme at UoB, won third place for her work "Side effects." "My work talks about recovering from mental illness.
She explains that many people try to heal themselves while experiencing the dilemma of losing a part of themselves. "This causes the individual to lose their personality as they recover." "A person who suffers from a disease experiences a feeling of alienation, and this is what I try to call the side effect of healing." The exhibition organised by Bahrain Authority for Culture and Antiquities celebrates the creativity and ingenuity of the artists in Bahrain.
Every year, the art community gathers to present their finest work, uninhibited by a subject or theme. The result is a colourful display of styles and techniques through different mediums of expression.