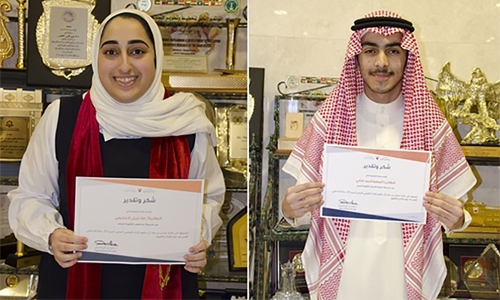 Two Bahraini students win the Hamdan Al Maktoum Award for Distinguished Academic Performance
TDT | Manama
The Daily Tribune – www.newsofbahrain.com
Two students from Bahrain public schools won the Hamdan bin Rashid Al Maktoum Award for Distinguished Academic Performance in its twenty-third session.
On this occasion, Education Minister HE Dr Majid bin Ali Al Nuaimi affirmed the ministry's interest in the annual participation of this award, within the framework of the close relations between the Kingdom of Bahrain and the UAE in many fields, including education, thanks to the directives of the wise leadership in the two brotherly countries and the distinguished fraternal relations that unite them, noting the importance of the role that this award plays in motivating distinguished schools, teachers and students in the GCC countries.
He explained that the ministry places among its priorities the participation of students in local and foreign competitions.
This came during the Minister's reception of the two winning students, Ola Al-Ajimi from Jidhafs Secondary School for Girls, and Osama Fathy from East Riffa Secondary School for Boys, where he congratulated them on this honourable achievement and praised the efforts they made to obtain this important educational award, and for their academic achievement.
It is worth noting that, in addition to school academic excellence, students have distinguished achievements in terms of student activities, such as obtaining shields of excellence and certificates of appreciation, and many participations in conferences, seminars, workshops and various competitions at home and abroad.