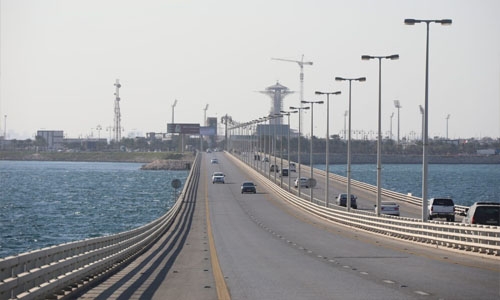 Bahrain eases restrictions for travellers entering King Fahd Causeway
TDT | Manama
The Daily Tribune – www.newsofbahrain.com
Bahrain's decision to ease travel restrictions from Saudi Arabia to the Kingdom of Bahrain through the King Fahd Causeway took effect yesterday.
People arriving in Bahrain from Saudi Arabia via the causeway will no longer face a mandatory PCR (Polymerase Chain Reaction) test for COVID-19.
This was the recommendation made last week by the National Medical Taskforce to Combat COVID-19, headed by Supreme Council of Health Chairman Lieutenant-General Dr Shaikh Mohammed bin Abdullah Al Khalifa, and was approved by the Government Executive Committee.
However, all who wish to enter the country will need to provide proof of a negative result from a PCR test carried out at accredited Bahraini or Saudi laboratories within 72 hours of arrival.
An original PCR certificate or a test result displayed through a mobile app such as the "BeAware" app, "Tatamman", "Sehhaty" and "Alhusen", or one of the official smartphone applications in Saudi Arabia will be accepted.
Bahraini authorities also stressed the importance of all visitors adhering to precautionary health measures while in the country to prevent the spread of the virus.
Travellers from both countries have welcomed the opening of the causeway to travel to both countries.
Indeed, it is a positive development during this time of the pandemic.
With Bahrain waiving the mandatory PCR test will mean enhancing business, reviving trade and tourism, and adding billions of dollars to Bahrain and Saudi economies.
Following the lifting of travel restrictions, thousands of visitors are expected to travel, leading to an anticipated rebound for both Kingdoms' tourism and hospitality sector.
Bahrain and Saudi Arabia have long-standing tourism and trade ties, with trade between two countries growing by 43 per cent up to the third quarter of 2020.
Prior to the pandemic, Bahrain has welcomed around 11 million tourists with over 88 per cent coming through the causeway.
The causeway is 25 kilometres in length, with the Saudi portion beginning at Al Aziziyyah, located south of Al Khobar city, and the Bahrain portion beginning right from Al Jasra, west of Manama.
The number of visitors from Saudi Arabia is set to gradually go back to normal levels following the announcement to open the entry ports and is expected to add around $2.9 billion to Bahrain's economy this year based on average tourist spending in 2019.
According to the King Fahad Causeway Authority website, January 2020 registered the highest number of users in a single month, with 3,095,963 passengers moving through, or around 99,870 per day. This represented an increase of 22.2 per cent compared to the same period in 2019.
King Fahad Causeway is one of the largest construction achievements in the region.
Opening in 1986, it has played a prominent role in the region and helped to strengthen relations between Saudi Arabia and Bahrain.
Today it is one of the busiest land border crossings in the Middle East with an estimated 390 million passengers having used the bridge since its opening.
In spite of the global spread of coronavirus, the commercial shipping of necessary goods across King Fahd Causeway has continued.
Bahrain Customs have recently announced installing high-tech artificial intelligence scanners on the bridge, automating data collection and allowing shipment inspections to take place before reaching the border.
Saudi Arabia is reopening travel via air, land and sea from March 31, 2021, according to the country's Ministry of the Interior.