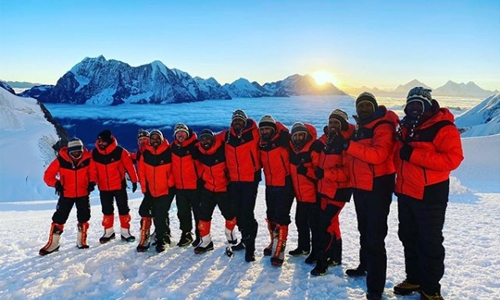 Bahrain is (literally) on top of the world!
TDT | Manama
The Bahraini flag is now literally on top of the world.
 Raising it there at the height of 26,781-feet above the sea-level at Manaslu was an 18-member mountaineering team led by Bahrain's Royal Guard.
Manaslu is the eighth-highest mountain in the world at 8,163 metres above sea level. It is in the Mansiri Himal, part of the Nepalese Himalayas, in the west-central part of Nepal.
The Bahrain team achieved this remarkable victory in bone-chilling conditions after relentless eight days of climb.
They started the summit push at 10pm and reached the summit at 6.10am.
 Team members thanked His Majesty the King's Representative for Charity Works and Youth Affairs, National Security Advisor and Supreme Council for Youth and Sports Affairs (SCYS) Chairman HH Shaikh Nasser bin Hamad Al Khalifa, for his vision and support for the task. "Amazing achievement and thanks go to our Commander@nasser13hamad for his vision and support on our task."
Soon after the sky-high triumph, the team posted on their Instagram account, several pictures of them scaling the summit.
Pictures also showed team members raising the Royal Guard Flag at the Manaslu summit.
More peaks to fall
The climb to conquer the peaks doesn't end here, as the team will next year also plan to climb Mount Everest.
The Bahrain team, which includes three Britons, has the permission to climb the 8,163-metre (26,781-feet) Manaslu and the 6,119-metre Lobuche.
Nepal re-opened its mountains - including the Everest - late July, ahead of the autumn climbing season and in anticipation of international flights resuming in mid-August.
More than 50 Sherpas took part in the expedition. The only other team with a permit for the autumn season was an all-Nepali expedition planning to summit 7129-metre Baruntse.