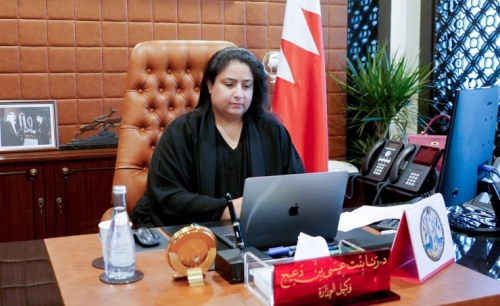 Women 'partners' in peacemaking
Manama
Women play a major role in decision-making to establish peace and security in the world, said Foreign Affairs Ministry Undersecretary Dr Shaikha Rana bint Isa bin Daij Al Khalifa. Also a member of Supreme Council for Women (SCW) and chairman of MoFA's Equal Opportunities Committee, Dr Shaikha Rana was speaking via videoconference at the opening of the one-year anniversary celebrations of the launch of the Global Alliance of Regional Women Mediator Networks.
Dr Shaikha Rana noted that Bahrain, in implementation of the pledge it made 25 years ago during the Fourth World Conference on Women in Beijing in 1995, and the commitments contained in the Beijing Declaration and Platform of Action, together with Security Council Resolution 1325 of 2000, seeks to ensure the equal participation of men and women at all levels. This is especially at the level of decision-making and the involvement of women in conflict prevention and peace building and maintenance processes, affirming that women play a major role in establishing peace.
Dr Shaikha Rana underlined that the efforts made by women to establish peace and domestic and international security were commendable. Though Arab women vary in their exposure to armed conflicts, they still have a great role in peacemaking and resolution of disputes. Dr Shaikha Rana noted that a Bahraini woman, despite being in a stable region far from the possibility of an armed conflict, still fulfils her role in providing support services and backing women in brotherly states subjected to armed conflict.
She reviewed a number of Bahrain's initiatives in this regard, including establishing Bahrain Health Centre in Aden, and forming the Civil Defence Council and National Disaster Management Committee by the Ministry of Interior in the Kingdom to take measures related to handling emergencies.