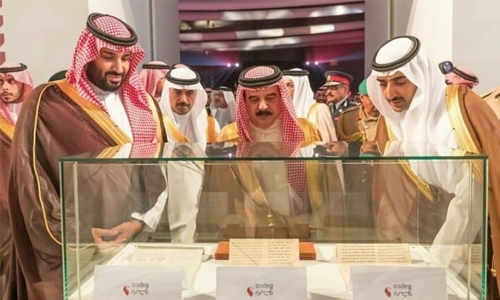 Saudi raises Bahraini-Saudi Coordination Council chairmanship to Crown Princes
Manama
Oil Minister, Shaikh Mohammed bin Khalifa Al Khalifa, has lauded the Saudi Cabinet's decision to raise the level of the chairmanship of the Bahraini-Saudi Coordination Council to the level of the Crown Princes of the two countries, noting that the moves reflects the depth of bilateral relations, based on mutual understanding, love and shared belief in their common destiny. The minister pointed out that the decision is the fruitful outcome of the solid relations and mutual love between His Majesty King Hamad bin Isa Al Khalifa, and the Custodian of the Two Holy Mosques King Salman bin Abdulaziz Al-Saud.
He asserted that the move will enable the Coordination Council to achieve its gains aimed at further developing bilateral relations, in light of the dedication and far-sighted visions of His Royal Highness Prince Salman bin Hamad Al Khalifa, the Crown Prince, Deputy Supreme Commander and First Deputy Prime Minister, and the Saudi Crown Prince, Deputy Premier and Defence Minister, His Royal Highness Prince Mohammed bin Salman Al-Saud.
He indicated that the decision will further bolster the existing cooperation between the two kingdoms across various fields, especially oil and gas, in light of their leaderships' strong interest in such a vital sector. The Oil Minister affirmed that the deep-rooted Bahraini-Saudi relations have been, and will remain unique, wishing the Coordination Council every success in achieving two kingdoms' aspirations for more progress and prosperity.