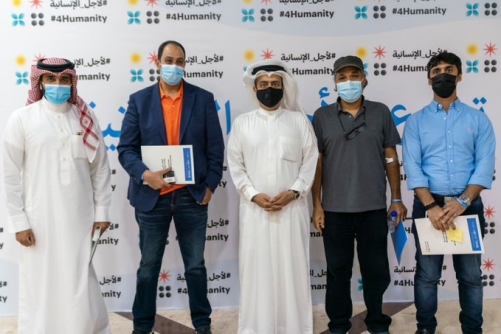 Sign up for COVID-19 vaccine trial: LMRA's Al Absi
TDT | Manama
Chief Executive Officer of the Labour Market Regulatory Authority (LMRA), Ausamah Abdulla Al-Absi, has called on citizens and residents to ensure their participation in the ongoing COVID-19 vaccine trial to secure a vaccine as soon as possible.
"The whole world is waiting eagerly for a solution to COVID-19 to restore the pre-pandemic life," said Al-Absi warning that this cannot be achieved without the participation of the citizens and residents. He emphasised that everyone is responsible for reaching a successful vaccine that would benefit the entire humanity.
He pointed out that his participation in phase III clinical trial for a COVID-19 inactivated vaccine has encouraged many LMRA officials and directors to volunteer, adding that taking the candidate vaccine is a national duty. China-based Sinopharm has commenced a Phase III clinical trial of its Covid-19 vaccine candidate at the Bahrain International Exhibition and Convention Centre (BIECC).
The trial, conducted under the supervision of specialised medical staff, assesses the vaccine candidate for its effectiveness in antibody generation and the acquired protection against the virus. The Phase III trial involves up to 6,000 volunteers aged more than 18 years, according to the Bahrain Ministry of Health.
As of now, enrollment has climbed over 3,000. Al-Absi stressed the importance of supporting the efforts of the National Medical Taskforce for Combating the Coronavirus (COVID-19), noting that taking part in the vaccine trial is necessary to ensure reaching a secure vaccine as soon as possible.
He affirmed that the vaccine is secure and procedures are clear, paying tribute to the medical staff working at the Bahrain International Exhibition and Convention Centre for the tremendous humanitarian efforts they are making.
In an earlier statement, the Ministry of Health said: "The move is part of the steps taken within the on-going efforts to contain the novel coronavirus pandemic and limit its spread through stepping up all precautionary and preventive measures to protect the health and safety of everyone.