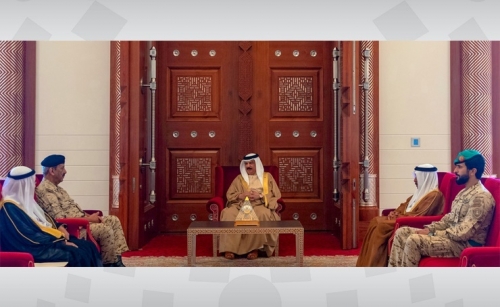 Royal praise for BDF in virus fight
TDT | Manama
His Majesty King Hamad bin Isa Al Khalifa, the Supreme Commander, praised yesterday the Bahrain Defence Force (BDF) for their great contributions to efforts in fighting and containing the coronavirus (COVID-19) disease. HM the King said this as he received at Al Safriya Palace BDF Commander-in-Chief Field Marshal Shaikh Khalifa bin Ahmed Al Khalifa and a number of senior officials.
HM King Hamad said that the BDF—through the National Taskforce to Combat COVID-19 led and supervised by His Royal Highness Prince Salman bin Hamad Al Khalifa, Crown Prince, Deputy Supreme Commander and First Deputy Prime Minister—have played their role with efficiency and distinction.
HM the King expressed his sincere appreciation to the BDF for providing well-equipped facilities that make available the latest health supplies and for ensuring the best preventive and treatment services, thanks to their highly qualified distinguished medical personnel.
HM the King valued highly the "fruitful and valuable" efforts made by the Supreme Council of Health (SCH) president and national taskforce chairman Lieutenant-General Dr Shaikh Mohammed bin Abdulla Al Khalifa.
HM King Hamad requested the SCH chief to convey his greetings and appreciation to all health sector affiliates, as well as to the medical and nursing professionals working on the frontlines of the COVID-19 fight, for their dedication in providing the best health care and treatment to citizens and residents.
In this context, HM King Hamad affirmed Bahrain's constant keenness to provide the requirements for a decent life for citizens, as well as giving all care to residents, as the Kingdom's people are partners in building the nation.
HM King Hamad also praised the great enthusiasm shown by volunteers in the clinical trials for a COVID-19 inactivated vaccine, which are being conducted in Bahrain in cooperation with those in charge of the project from the sisterly UAE and the initiative partners from China.
HM the King said that the participation of 6,000 citizens and residents in these experiments is a source of pride, and extended thanks to them for their noble humanitarian stance. HM the King lauded the continuous development and progress witnessed by the BDF in the fields of armament and military installations in its various branches.
HM King Hamad further expressed pride in the BDF's brave servicemen for the lofty patriotic duties they are undertaking, in service of the cherished homeland at various work sites with high efficiency, loyalty, sincerity, distinctive courage, and high morale.