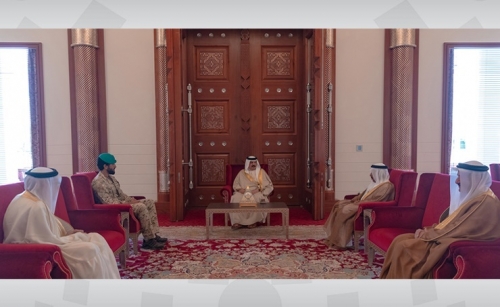 TDT | Manama
His Majesty King Hamad bin Isa Al Khalifa asserted yesterday that Bahrain is following up, through the Foreign Affairs Ministry, on all Arab, regional and international efforts related to the rebuilding of brotherly Lebanon, following the blast that rocked its capital Beirut last week.
His Majesty King Hamad, who is the Royal Humanitarian Foundation (RHF) honourary president, said this as he received at Al Safriya Palace yesterday HM the King's Humanitarian Works and Youth Affairs representative and RHF board of trustees chairman His Highness Shaikh Nasser bin Hamad Al Khalifa.
Royal Court Minister Shaikh Khalid bin Ahmed Al Khalifa, Royal Court Follow-up Minister Shaikh Amed bin Atiyatulla Al Khalifa, and Foreign Minister Dr Abdullatif bin Rashid Al Zayani were also present. HM the King reviewed with HH Shaikh Nasser the valuable efforts being exerted by the RHF to deliver urgent relief aid to Lebanon, to support its brotherly people and alleviate their plight following last week's incident, appreciating the RHF's achievements so far.
HM King Hamad praised the noble efforts made by the RHF, affirming Bahrain's support for and solidarity with the brotherly Lebanese people under the difficult circumstances they are going through, which embodies the fraternal relations between the two countries and their peoples.
HM the King wished the Lebanese people every success in overcoming their current ordeal and enjoying security, peace, stability and prosperity. HM King Hamad said that members of Bahrain's Lebanese community are with their country, appreciating their contributions to the Kingdom's comprehensive development march, alongside citizens.
HM the King praised the humanitarian role played by the RHF, under the leadership of HH Shaikh Nasser, to provide aid and assistance to brotherly and friendly countries going through such circumstances. HH Shaikh Nasser expressed deepest thanks, appreciation, and gratitude to HM the King for his continuous noble humanitarian initiatives to deliver relief aid to stricken people.
The royal noble initiatives reflect the Kingdom's honourable stances towards others, based on the fraternal and humanitarian relations binding all countries and peoples of the world, HH Shaikh Nasser said.