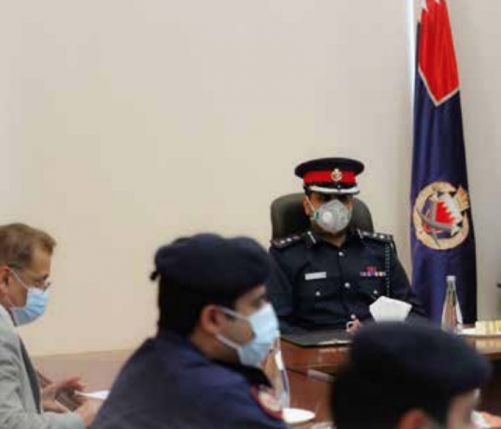 Commitment reiterated to enforcing virus-related measures
TDT | Manama
Southern Governorate Police will continue to enforce coronavirus-related laws and precautionary measures, such as social distancing and wearing masks. This was stressed by director-general Brigadier Shaikh Abdullah bin Khalid Al Khalifa in a meeting with the Interior Ministry's Coronavirus (COVID-19) Combatting Taskforce head Dr Khalid Abdulwahid Omar.
The director-general hailed the directives of Interior Minister General Shaikh Rashid bin Abdullah Al Khalifa for the formation of the taskforce in cooperation with Team Bahrain. He noted that the meeting was an opportunity to learn about procedures and steps being undertaken to fight the spread of the virus and enhance the efforts of the directorate in cooperation with the Southern Governorate.
The task force's head praised the directorate's efforts which have contributed to the success of the team's missions. The meeting was also attended by taskforce member Lt-Col. Tariq Bin Daina.