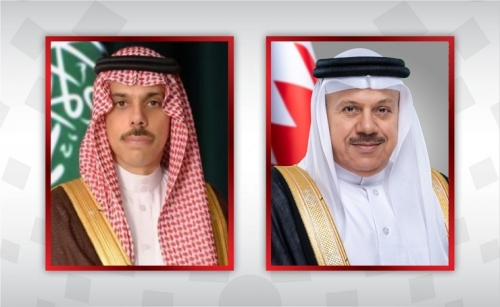 Bahrain, Saudi foreign ministers review latest political, security developments
TDT | Manama
Minister of Foreign Affairs Dr Abdullatif bin Rashid Al Zayani and his Saudi Arabian counterpart Prince Faisal bin Farhan bin Abdullah Al Saud discussed in a phone call yesterday the latest regional and international political and security developments, along with international efforts to promote security and stability in the region and issues of shared interest.
They reviewed ways to promote coordination and consultation between the two Kingdoms at all levels, to meet the aspirations of the two countries and peoples. The Foreign Ministers also emphasised the deep historical relations between Bahrain and Saudi, seen today as a model of strong solidarity between brothers in light of their common destiny and goals.
Meanwhile, Bahrain welcomed the report of UN secretary-general António Guterres on Iran before the UN Security Council, in which he held Iran accountable for the terrorist acts that targeted two Aramco facilities in Abqaiq and Hijrat Khurais in Saudi Arabia, and for targeting Abha International Airport last year with cruise missiles and drones.
The Foreign Affairs Ministry said it commended the professionalism and high transparency of the report based on irrefutable facts, which has demonstrated the grave destructive role of Iran in undermining security and stability in the region by supporting, financing, arming, and training terrorist organisations and continuing to support the Houthi terrorist group that threatens civilians in Saudi.
The Ministry affirmed that Bahrain stands in line with Saudi, and supports all the measures it takes to confront aggressive Iranian actions to protect its security and stability. It also stressed the need for the international community and the UN Security Council to take firm steps to deter and confront Iran and extend the arms embargo imposed on it, until Tehran changes its aggressive approach that violates all international conventions and laws and threatens regional peace and security