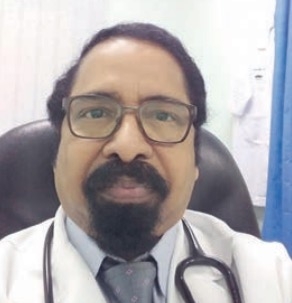 First COVID death among medical fraternity
TDT | Manama
Renowned and respected doctor, Dr Solomon Vinay Kumar, aged 64, succumbed to the coronavirus (COVID-19) pandemic. Healthcare workers are in the front line of the fight against the pandemic and he has become the first physician in Bahrain who has succumbed to it. Dr Solomon worked as a primary care physician at the American Mission Hospital (AMH) over the last 14 years.
The late doctor, highly qualified with various certifications over his long medical career, has also contributed actively towards global clinical research in Immunology. He is survived by his wife Indira and two sons, their families and two grandchildren.
AMH CEO, Dr George Cheriyan announced with deep sorrow and regret in his statement that Dr Solomon had been fighting the infection at the Bahrain Defence Force hospital's intensive care unit over the last four weeks. "He was a dedicated physician who served the mission of the hospital in putting patients before self.
He leaves behind over 600 colleagues at AMH who grieve alongside his family at this loss," Dr Cheriyan told Tribune. "The history of AMH is scripted by the loss of several physicians that served through the last 120 years. The first female Physician in Bahrain Marion Wells Thoms died of Cholera including her two children in 1904.
On her grave-stone is engraved- unless a kernel of wheat falls to the ground and dies it cannot produce rich fruit," added Dr Cheriyan. Expressing his condolences to the doctor's family, he added that Dr Solomon will be dearly missed.