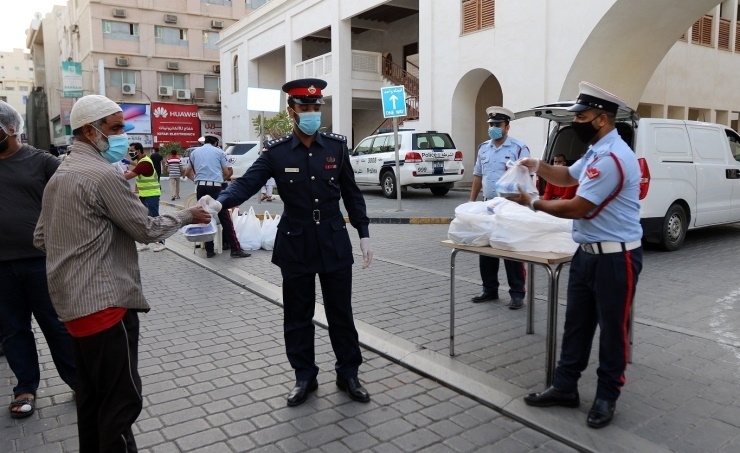 Bahrain's governorates and police departments provide 16,000 Ramadan meals
TDT | Manama
They say, "If you bring a smile on someone's face, you will help create a world where people care about each other." Police in Bahrain knows this better than anyone else. And on the other day, they did exactly just that.
By distributing 16,000 Ramadan fast-breaking meals across the Kingdom, they have managed to become somebody's reason to smile. The initiative was accomplished in coordination with Bahrain's four police directorates, governorates and a large number of volunteers.
The move deepens the principle of social partnership promoted by the Ministry of Interior, and comes in cooperation and coordination with the national campaign "Feena Khair, which translates to 'There is good in us."
The project was launched by His Highness Shaikh Nasser bin Hamad Al Khalifa, the Representative of His Majesty the King for Humanitarian Affairs and Youth Affairs, National Security Adviser and Chairman of the Royal Humanitarian Foundation.
The initiative also seeks to enhance the culture of generous sharing and dedicated volunteerism among the Bahrain society and communities. The governorates and police departments said they would continue to distribute meals throughout the blessed month of Ramadan.
Dr Mustafa Al Sayed Secretary-General of Royal Humanitarian Foundation (RHF) earlier said that the "Fina Khair" includes provisions to provide daily breakfasts, procurement coupons as well as masks to productive families.
The fund will also support the efforts of the General Administration fo Civil Defence for sterilisation operations, disinfection and providing computers for needy. The campaign, Dr Al Sayed said, has received more than BD 37 million (US$100 million) contribution from over 40,000 individuals and 500 companies.
Hunger emergency The coronavirus pandemic has brought hunger to millions of people around the world, as national lockdowns and social distancing measures are drying up work and incomes.
Experts say the world has never faced a hunger emergency like this, which could double the number of people facing acute hunger to 265 million by the year-end.
Tedros Adhanom Ghebreyesus, the director-general of the World Health Organisation (WHO), in a joint statement with Roberto Azevedo, the director of the World Trade Organisation (WTO) and Qu Dongyu, head of the UN's Food and Agriculture Organisation (FAO), has said, "Uncertainty about food availability can spark a wave of export restrictions, creating a shortage on the global market."
After a few days, the warning has become a reality in many countries where workers are lining up twice a day for bread and vegetables to keep hunger at bay.
In many countries, poor households have started handing red clothing and flags from their windows and balconies as a sign that they are hungry. It is at this juncture that the selfless deeds like this in Bahrain gain more importance.
On 17 March, the Bahraini government unveiled an $11.39 billion stimulus package to support the country's economy during the pandemic, also covering water and electricity bills over the next 3 months.
Thereafter, on 8 April 2020, the government announced that it would spend US$570 million to pay for the salaries of all Bahraini employees (an estimated 100,000) working in the private sector from April to June 2020