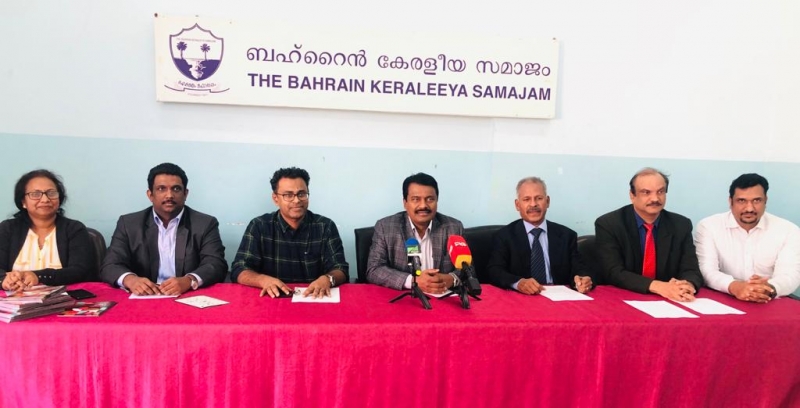 BKS International Book and Cultural Fest 2020 set
TDT | Manama
The Bahrain Keraleeya Samajam will host the fifth international Book festival commencing on February 19, 2020 until February 29, 2020, said BKS President P V Radhakrishna Pillai and General-Secretary Varghese Karakkal at a press conference held yesterday.
BKS International Literary and Cultural Fest is one of the acclaimed international book fairs in the GCC, with the participation of over 30 publishers from India and abroad. Prominent national and international personalities grace the 10-day long Book Fair and Cultural Fest. A consortium of all major publishers in India is participating in this year books festival; thus, provides the opportunities to the book lovers for selecting books of their choice.
The consortium will exhibit books from 50 publishers including the ones from Penguin and most of the prestigious literary publishing houses in India. Prominent personalties to attend the event this year are Sitaram Yachury, General Secretary of the Communist Party of India Marxist, Jairam Ramesh, Member of Parliament, former minister and writer, C K Padmanabhan, former BJP President, Kerala, Rajdeep Sardesai, Indian news anchor and editor at the India Today Group, K G Sankara Pillai, Indian Poet, Subhas Chandran, famous writer, Shihab Poythum Kadavu, renowned short story writer, Dr M K Muneer, author, poet and former Minister of Kerala, M A Baby, writer and former Minister of Kerala, Mr Munavar Ali Shihab Thangal, President of Youth league, Mrs K R Meera, Indian Author and Journalist and Mr V R Sudheesh, short-story writer will be attending the 10-day long festival. Omani writer Ms Joka Al Harthi, who is a recipient of Booker Prize, will also attend the Book Fest along with other noted writers of Arab Literature.