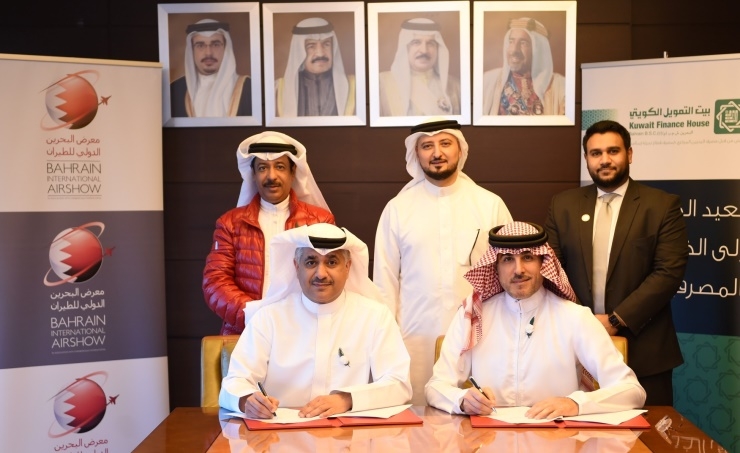 The Minister of Communications and Communications signs a sponsorship contract with the Kuwait Finance House for the Bahrain International Aviation Show 2020
Within the efforts exerted by the organizing committee of the Bahrain International Aviation Exhibition headed by His Highness Sheikh Abdullah bin Hamad Al Khalifa, Personal Representative of His Majesty the King, may God protect him, Chairman of the Supreme Committee organizing the Bahrain International Aviation Exhibition, and his directives in engaging national banks and companies and activating Their role and presence in the global events hosted by the Kingdom of Bahrain; His Excellency Engineer Kamal bin Ahmed Mohamed, Minister of Communications and Communications and Vice Chairman of the Higher Committee organizing the exhibition, signed a sponsorship contract with Kuwait Finance House - Bahrain as a bronze sponsor of the Bahrain Exhibition Aviation 2020 to be held at the Sakhir Air Force Base from 18-20 November 2020, under the patronage of the Royal Highness of His Majesty King Hamad bin Isa Al Khalifa, the King of the country, His Majesty, may God protect and preserve him, and with the organization of the Ministry of Transport and Communications and the Bahraini Royal Air Force and in cooperation with Farnborough International .

In a statement, Eng. Kamal bin Ahmed Mohamed stressed: "We celebrate this year with ten years since the first edition of the Bahrain International Airshow was launched in 2010. We are fully confident that this version of the exhibition will provide an appropriate platform to prepare the business for the participants in terms of forming relations and exchanging The ideas and fruitful cooperation between the participating companies, which supports the Kingdom of Bahrain's directions towards attracting investments and developing non-oil economic sectors, hoping that we will strengthen the position of the Kingdom of Bahrain in the Arabian Gulf as a vital economic center. " He also pointed out that the diversity of the companies participating in the exhibition is evidence of the growth witnessed by the exhibition since its establishment in 2010.

For his part, Mr. Abdul Hakim Al Khayyat, Managing Director and CEO of Kuwait Finance House - Bahrain said: "The Bahrain International Airshow is distinguished as a major event in the Kingdom's events calendar, and adds more sparkle to the Kingdom of Bahrain at the global level. Our sponsorship comes at Kuwait Finance House - Bahrain For this distinguished event out of our commitment to support national initiatives that contribute to the advancement of the national economy in line with the economic vision of the Kingdom 2030. "