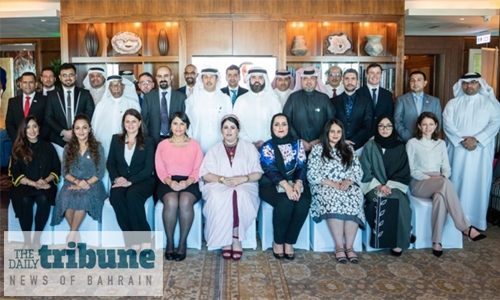 Mumtalakat honours 27 outstanding employees from the group
Bahrain Mumtalakat Holding Company (Mumtalakat), the sovereign wealth fund of Bahrain, yesterday recognised the outstanding contributions of 27 employees from across its group of companies at a special awards ceremony at the Capital Club.
Winners are nominated by companies based on the evaluation of their performance against five categories, namely personal initiative and achievement; professional creativity and innovation; knowledge management and lifelong learning; management and leadership; and impactful collaboration and teamwork.
To date, 76 employees from the group have been honoured by the Mumtalakat. Commenting, Khalid Al Rumaihi, CEO of Mumtalakat, told the winners that the company is proud to have them as part of the Mumtalakat family.
"When you have passion, you have the drive, and you can contribute to the growth stories of your companies, your industries and in turn, the global economy," he said.
The award recipients are (in alphabetical order): Abdulhussain Hassan Mohammed, Al Jazeera Tourism Company, Ahmed Mohammed Hussain, Gulf Aviation Academy (GAA), Ali Abdulehal Almoalem, Bahrain Flour Mills Company (Al Matahin), Andrea Stella, McLaren Racing, Anouar Abattouy, PREMO Group, Awatif Redha AlBahhar, Gulf Air, Barbara Baumgartner, FAI Aviation Group, Eman Abdulameer Alhoori, Southern Tourism Company (STC), Fatema Abdulrazaq Almahmood, Bahrain Institute for Pearls and Gemstones (DANAT), Hani Abdulla Al Aradi, Aluminium Bahrain (ALBA), Helal Ebrahim AlSaadoon, Bahrain Airport Company (BAC), Dr Jaffar Mohammed Ahmed, National Bank of Bahrain (NBB), Jafar Naser Al-Ghannami, Gulf Aluminium Rolling Mill Company (GARMCO), Khalil Ebrahim Mohamed, Aluminium Bahrain (ALBA), Manuela Cecconi, McLaren Automotive, Mark Tatlow, McLaren Applied Technologies, Mohamed Shazaib, Mueller Middle East, Naseem Husain Rasrummani, Gulf Hotels Group, Omar Yusuf Zainal, Gulf Air, Reem Khalid Alqassimi, Bahrain Real Estate Investment Company (Edamah), S.Fawzi Alawi Husain, Aluminium Bahrain (ALBA), Shamshad Alam Ali, Bahrain International Golf Course Company (BIGCC), Sherif Al Mahdy, Bahrain International Circuit (BIC), Taha Alabbasi, Gulf Air, Vasco Araujo, McLaren Automotive, Yaser Mohamed Al Hammadi, Durrat Khaleej Al Bahrain and Zahra Adel Hasan, Gulf International Bank (GIB).