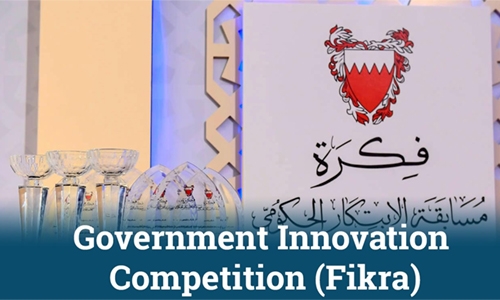 Fikra application submission period ends
The second edition of the Government Innovation Competition (Fikra) has stopped accepting applications for this year's intake, said the Office of the First Deputy Prime Minister (OFDPM). The application process was open from October 6 to November 6 through the OFDPM's website.
Applications were allowed either as individuals or as a team of up to four individuals. The evaluation process begins in December this year, where the selected candidates will receive training to develop pitching and presentation skills. Fikra was launched during the Government Forum 2019 by His Royal Highness Prince Salman bin Hamad Al Khalifa, the Crown Prince, Deputy Supreme Commander, and First Deputy Prime Minister.
The competition aims to boost creativity and innovation among government employees and provide them with the opportunity to compete in making effective proposals to develop government performance.
Fikra in its first edition (2018) selected three projects are winners - Hospitality' by Ahmed Al Turaifi, 'E-Volunteer Platform' by Shaikh Salman bin Ahmed Al Khalifa, Mubarak Al Tamim, Mai Salah Abdulla and Hisham Mubarak Albufalasa and 'The National System for Appointments' by Adel Al Qallaf. Public votes went to 'Work from Home' project by Abdullah Mohammed Al Ahmed and Nouf Mohammed Al Ahmed.