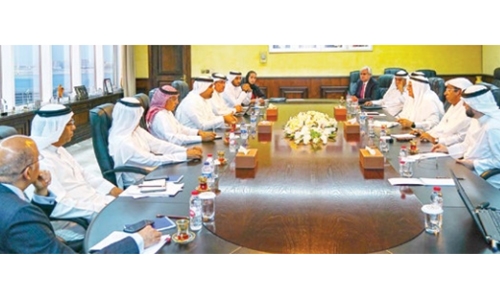 BD100m support for private sector discussed
Following the directives issued by His Roya l Highness Prince Salman bin Hamad Al Khalifa, Crown Prince, Deputy Supreme Commander, and First Deputy Prime Minister, during the 2019 Government Forum, the Minister of Finance and National Economy yesterday met a number of executives from relevant authorities regarding the establishment of a BD100 million liquidity fund to support the private sector.
Shaikh Salman bin Khalifa Al Khalifa met with the Chairman of the Labour Fund "Tamkeen", Shaikh Mohammed bin Isa Al Khalifa, the Minister of Industry, Commerce and Tourism, Zayed R Alzayani, Chairman of the Bahrain Chamber of Commerce and Industry (BCCI), Sameer Abdullah Nass, First Vice-Chairman of the BCCI, Khalid Najibi, Chairman of the National Bank of Bahrain (NBB), Farouq Al Moayyed, CEO of the NBB, Jan Christophe Durand, Chairman of Bank of Bahrain and Kuwait (BBK), Murad Ali Murad, CEO of the BBK, Reyadh Sater, Chairman of Bahrain Development Bank (BDB), Khaled Al Rumaihi, and the CEO of the BDB, Sanjeev Paul.
During the meeting, the Minister of Finance and National Economy and the attendees reviewed and discussed procedural aspects of launching the liquidity fund, in coordination with the relevant authorities. As outlined by HRH the Crown Prince during the 2019 Government Forum, the fund will be established to support various economic sectors within the Kingdom and ensure targeted objectives are achieved.