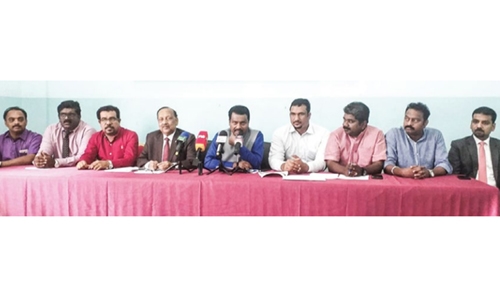 BKS lines up grand Onam events
The Bahrain Keraleeya Samajam has lined up grand events named 'Shravanam 2019', marking the Onam festival. On October 4, the grand Onam feast will be served under the supervision of renowned chef, Pazhayidam Mohanan Namboothiri. The official inauguration of 'Sravanam 2019' will take place on September 19, 2019 at 7.30 pm. Kerala legislative assembly speaker, P Sreeramakrishnan will be the chief guest and former education minister of Kerala, M A Baby will be the guest of honour.
On the same day, Swaralaya Devarajan Award and BKS Brahmandhan Award will be presented to the Indian singing sensation Hariharan and playback singer Madhu Balakrishanan respectively. Vipin Devasya and Shine Joy will be honoured with BKS Young Outstanding Entrepreneur Award, C P Varghese with BKS Outstanding NRI Award, Khalid Juma with Indo-Bahrain Friendship Award and Abdul Majeed Theruvath with BKS Business Icon Award 2019.
Prominent leaders, Alphonse Kannanthanam (former Indian Minister) and K C Joseph (former minister, Kerala State) will join the celebrations and cultural programmes on various days. Cultural programmes related to 'Shravanam 2019' will come to an end on 27 September, where Ramesh Chennithala (Opposition leader, Kerala Legislative Assembly) will be the chief guest. South Indian nightingale, K S Chitra's concert will be the main attraction of the day. A chain of cultural programmes has also been arranged to entertain the public during these days of celebration.
Popular Indian singers like Hariharan, Madhu Balakrishnan, Harishankar, Naresh Ayyar, Najeem Arshad, Rakesh Brahmanandan, Sithara, Durga Viswanath, Teenu Tellence will entertain the public from 19 to 27 September. Other artistes of fame, Soorya Krishnamoorthy, Aatukal Balasubramanyam, Shamna Kasim and Bollywood Hollywood fame Neerav Bavlecha and team have also been lined up for musical, dance and cultural extravaganza.
The doors of samajam are widely open for the public to enjoy the programmes, BKS officials said, at a press conference held yesterday. BKS President P V Radhakrishna Pillai and General Secretary M P Raghu attended.