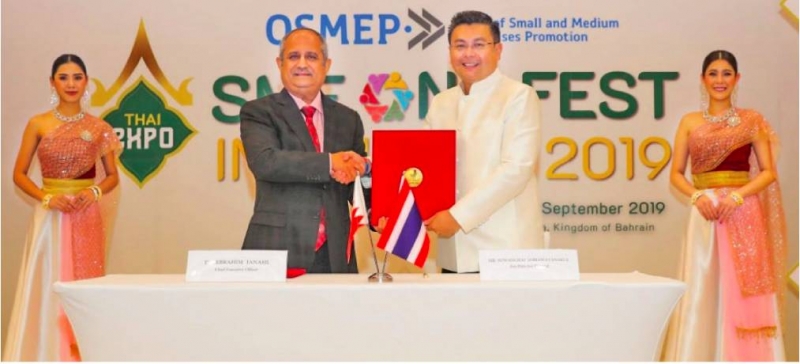 Deal set to boost Bahrain's 'entrepreneurial landscape'
The Ambassador of Thailand to the Kingdom, Thanis Na Song Khla yesterday met with the Chief Executive of the Labour Fund "Tamkeen" Dr. Ebrahim Mohammed Janahi to discuss and elaborate methods of collaboration between the two countries. During the meeting, the Labour Fund "Tamkeen" signed a Memorandum of Understanding (MoU) with Office of Small and Medium Enterprises Promotion of Thailand (OSMEP) to foster collaboration in the entrepreneurial landscape in both Bahrain and Thailand. The purpose of this MoU is to jointly study opportunities to promote entrepreneurial and startup ecosystems as well as develop frameworks and roadmaps that support companies and entrepreneurs to grow and expand.
The MoU was signed by Tamkeen's Chief Executive Dr. Ebrahim Mohammed Janahi and OSMEP Director-General Suwanchai Lohawatanakul. Stressing the importance of this collaboration, Thanis Na Song Khla hailed Bahrain and Thailand long-standing history of bilateral relations, especially in the trade sector. "The two countries have been actively exchanging trade missions in various sectors in these recent years.
The MoU would, even more, tighten the relationship and benefits the people of two countries," he explained. Dr. Janahi praised this partnership as a key step towards fostering entrepreneurship and the creation of innovative businesses to stimulate job creation and boost economic growth in both countries. He explained that this agreement aims to look into potential ways to benefit from the exchange of expertise as well as explore opportunities to promote the startup ecosystem and its positive contribution to the national economy.