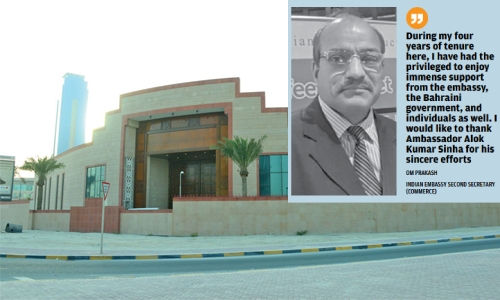 Bahrain, India bilateral trade, investment soar
Investment and trade between India and Bahrain have sky-rocketed in the past few years, a top Indian embassy official has said. According to the outgoing Second Secretary (Commerce) Om Prakash, the bilateral trade between Bahrain and India is estimated to have jumped 40 per cent in about a year. Om Prakash has been reassigned by the Indian government to the Embassy Cairo, Egypt and is set to leave Bahrain today.
On the substantial jump witnessed in Bahrain-India bilateral trade, Om Prakash said, "Such dramatic increases are also evident in bilateral investments, which are encouraging." Thanks to constant support from all sides, "Trade between India and Bahrain is increasing constantly and substantially," Om Prakash told Tribune. In the period from April 2018 to February 2019, the increase in bilateral trade between India and Bahrain was 40pc. The increase, according to Om Prakash, in the year-ago period was 35pc. "The year before that had also recorded a significant increase," he said adding: The current increase was mainly due to an increase in the trade of engineering items."
"Four years ago this was not the case," Om Prakash said. "Such items were not traded much." Since March 2015, the flow of investment from Bahrain to India has more than tripled, while that from India to Bahrain has zoomed to around 1.7 billion US dollars.
"As per the Ministry of Industry, Commerce and Tourism, India is one of the top investors in Bahrain," he said adding: "Indians comprise of the largest number of foreign investors in the country." The outgoing Second Secretary also pointed out that in recent years participation in business meets by both sides has "improved substantially."
When asked about his experience in Bahrain, Om Prakash said, "During my four years of tenure here, I have had the privileged to enjoy immense support from the embassy, the Bahraini government, and individuals as well."
"I would like to thank Ambassador Alok Kumar Sinha for his sincere efforts. "All credit for the improvements goes to him. "He has made sure to give his full support to every single person at the embassy as well as to the public," Om Prakash said.