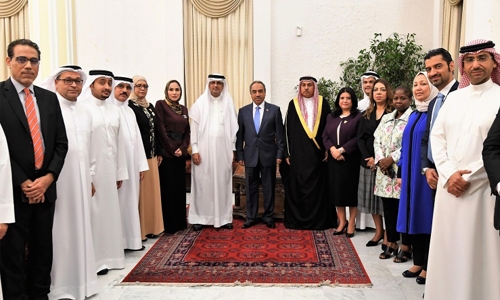 Capital Council chairman, members take legal oath
Capital Municipal Council's Chairman, Saleh Taher Mohammed Tarrada, and members took the legal oath yesterday during the council's first meeting held at the Municipalities Affairs headquarters. Minister of Works, Municipalities Affairs and Urban Planning, Essam Khalaf, Municipalities Affairs' Undersecretary, Dr Nabil Abu Al-Fateh, Assistant Undersecretary for Joint Municipal Services, Wael Al-Mubarak, Director-General of the Capital Municipal Council, Shawqiya Humaidan, Legal Advisor and Works Ministry's officials were present.
Congratulating council's chairman and members, the minister said the oath-taking session augurs a new phase of municipal work in the kingdom to continue the nation-building march under HM the King's National Project. The minister affirmed unwavering support enjoyed by municipal work from His Royal Highness Prime Minister Prince Khalifa bin Salman Al Khalifa and His Royal Highness Prince Salman bin Hamad Al Khalifa, the Crown Prince, Deputy Supreme Commander and First Deputy Premier.
He stressed that the Ministry of Works, Municipalities Affairs and Urban Planning will harness all its potentials to support the Capital Municipal Council. The Capital Municipal Council Chairman congratulated the Works Minister on his re-appointment to the post, wishing him further success. Capital Municipal Council's director-general said that the council will develop municipal work, stressing the need for partnership between the executive authorities and the Capital Municipal Council to enhance services and projects in the capital, Manama.