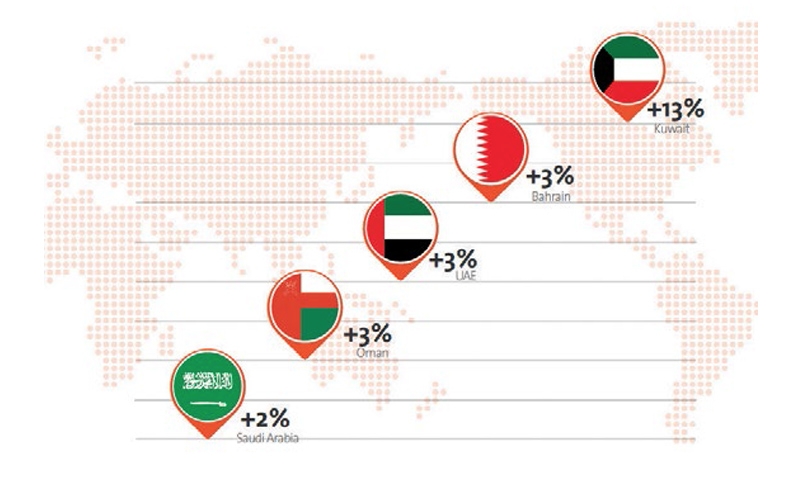 Manama : The average air-ticket fare in Bahrain has increased by 12 per cent in the first half of this year when compared to the same period last year, according to a study. Bahrain recorded the highest increase in the average air ticket prices in the GCC region, according to Cleartrip's recently released 'H1 and Summer 2018 Travel Insights Report'. The increase in average ticket prices in Bahrain is greater than all other countries in the region combined. While Kuwait and the UAE have seen an increase in the ticket prices, Saudi Arabia and Oman saw a decrease.
Saudi Arabia fared the best as average ticket prices decreased by 13pc for its domestic flights while it decreased 9pc overall and Oman saw a decrease of 7pc. The UAE saw an increase by 5pc and Kuwait saw an increase of 2pc. "In a diverse region, the market dynamics differ considerably. During the first half of 2018, Saudi Arabia experienced a 13pc decrease in average ticket prices due to the introduction of new competitors, while Bahrain witnessed a 12pc increase," the report stated. Despite the fluctuation, Bahrain's 'average fare per booking' remained much lower than the UAE which has the highest average fare in the region.
Bahrain's average fare per booking was 126$, Kuwait's is 128$, Saudi Arabia's at 124$, UAE at 157$ and Oman has the lowest at 110$. According to the report, the travel industry has seen pronounced changes during the first six months of 2018. The changes include rise in online transactions for air travel. "Travellers' payment preferences are evolving too. While credit cards still account for the majority of online bookings, debit cards are increasingly becoming the payment method of choice among the region's consumers Saudi Arabia registered a staggering 536pc rise in debit card usage to reach 38pc of total transactions, as MADA cards were enabled for online transactions."
"Desktop is still king when it comes to online bookings in the GCC. However, travellers in the region, which has some of the world's highest smartphone penetration rates, are increasingly using their mobile devices to book tickets online." Bahrain's air travel industry grew by 3pc in H1, according to the report. "Rising disposable income, more competitive airfares, easier visa regulations and heightened marketing efforts by destinations have all contributed to the steady growth of the GCC's online air travel industry in H1 2018.
"Kuwait experienced the strongest growth at 13pc, while other markets grew by 2–3 pc." Stuart Crighton, Founder and Chief Executive Officer of Cleartrip, said "Competitive airfares, easier visa regulations and heightened marketing efforts by destinations have all contributed to the steady growth of the GCC's online air travel industry. "The fresh insights contained in our report further equip us to develop travel and accommodation solutions that meet and exceed the expectations of the region's travellers."