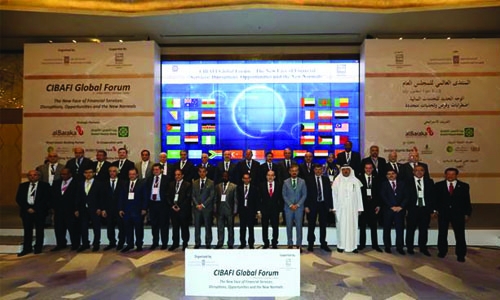 CIBAFI launches its third Global Forum 
Manama : The General Council for Islamic Banks and Financial Institutions (CIBAFI), the global umbrella of Islamic financial institutions organised its third Global Forum, on the theme of "The New Face of Financial Services: Disruptions, Opportunities and the New Normals".
The Forum is organised in partnership with the Banking Regulation and Supervision Agency of Turkey (BRSA) at Raffles Istanbul Hotel in Istanbul, Turkey.
The two-day Forum, gathered stakeholders from the Islamic finance industry, multilateral development institutions, international and national regulatory bodies, policy-makers, and academia to discuss the key emerging issues within the industry. The Forum was attended by more than 350 delegates from over 37 countries.
The event was opened by Abdelilah Belatik, Secretary General, of CIBAFI; Abdulhameed M. Aboumoussa, Governor of Faisal Islamic Bank of Egypt & Deputy Chairman of CIBAFI; Melikşah Utku, General Manager of Al Baraka Türk Participation Bank and Chairman of the Participation Banks Association of Turkey; and Mehmet Ali Akben, Chairman, Banking Regulation and Supervision Agency,
Turkey.
The Regulatory Keynote session moderated by Adnan Ahmed Yousif, President and Chief Executive, Al Baraka Banking Group focused on main thoughts as to how regulatory agencies remain relevant in a changing economic environment, where roles and existence of regulators is being questioned by the disruptions in the financial sector. The diverse panel comprised Dr. Ali Muhsin Ismaiel, Governor, Central Bank of Iraq; Kairat Nematovich Kelimbetov, Governor, Astana International Financial Centre, Kazakhstan; Raed H. Charafeddine, First Vice-Governor, Banque Du Liban, Republic of Lebanon; Abderrahim Bouazza, Director General, Bank Al-Maghrib, Morocco; and Hon. Abdirahin Haithar Abdi, Chairman, Insurance Regulatory Authority,
Kenya.
The Forum witnessed the launch of two groundbreaking reports, namely CIBAFI Global Islamic Bankers' Survey 2018 and Global Takaful Survey 2018, where CIBAFI Seceratry General Abdelilah Belatik during the launch reported that having actual perception of Islamic Banks CEOs from 103 Islamic Banks from 31 countries measured on year by year basis is by itself an achievement. This year CIBAFI also stepped into the Takaful sector by starting to measure the industry growth drivers and future outlook.
Session one, themed "Global C-Suite Opening Panel: Leadership Response to the Change", was chaired by Musa A. Shihadeh, Chief Executive Officer, Jordan Islamic Bank. And it included panelists such as Abdessamad Issami, Chief Executive Officer, Umnia Bank, Morocco; Iyad G. Asali, General Manager, Islamic International Arab Bank, Jordan; Shadi Zahran, Chief Financial Officer, Kuwait Finance House, Kuwait; Benjamin Young, Senior Sovereign Analyst, S&P Global Ratings, UAE; Wadeaa Nori Al Handhal, Chairman, Iraq Private Banks League, Iraq; and YBhg. Dato' Haji Mohd Redza Shah Bin Abdul Wahid, Chief Executive Officer, Bank Muamalat Malaysia Berhad, Malaysia. The session focused on CEOs' reaction to transformation, and how it affected the leading manners and better usage of resources. The session discussed regional business environment and how to deliver Islamic banking services with a facelift through an ecosystem of e-partnerships.
The first day of the Forum concluded with a Session themed "Future of Employment: Are We Ready for the Change?". It was chaired by Dr. Mahmoud Al Homsi, Research Economist, CIBAFI.
The second day of the Forum will continue with an exclusive CIBAFI Breakfast Session themed "Leadership and Strategy in the Era of the Fourth Industrial Revolution", where Rajeev Peshawaria, Chief Executive Officer & Executive Director of the ICLIF Leadership and Governance Centre, from Malaysia will talk about effective leadership style in a world of 24/7 connectivity, and how it has been changed in the open source era. Signature session will be moderated by Prof. Ahmet Faruk Aysan, Dean, İstanbul Şehir University.