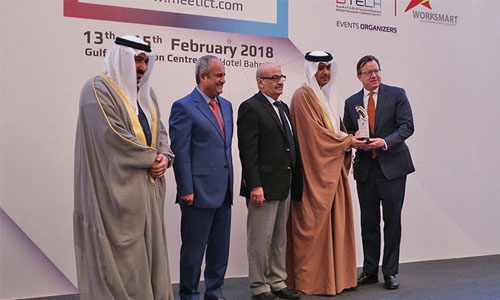 Bahrain puts spotlight on 'Digital Transformation'
Manama : 'Digital Transformation' was the topic of discussion as top experts from all around the region converged on Bahrain yesterday for the Bahrain International Technology Exhibition "BITEX" and 'Meet ICT'.
Meet ICT, a technology conference, and BITEX, an exhibition focused on the ICT sector, ran parallel at the Gulf Convention Centre. The event, which is in its eighth edition is being held under the patronage of the Minister of Transport and Communications Kamal Ahmed and organised by BTECH in collaboration with WORKSMART event management.
Local, regional and international experts discussed the latest development and issues of the ICT industry during Meet ICT while around 50 companies exhibited at the BITEX exhibition.
In his inaugural address, the Minister, Kamal Ahmed, told the conference about the importance of technology in driving economic growth.
"When used and managed correctly these technologies can drive economic and social gains for all stakeholders, the Minister said adding: "But in order to achieve this we must create the right environment for the stakeholders to leverage the power of ICT for sustainable growth."
"This objective has continually formed the core of Bahrain's digital policies and telecommunications and ICT sector," the Minister stressed.
"Bahrain is positioned to be an influential catalyst for the coming changes in how we manage and utilize technology and data. We will only be able to achieve this through the collaborative approach of private sector and public sector," he added
During his speech, Ambassador Justin Siberell noted the strength of the American tech industry and the contributions that American tech companies have made to Bahrain. He also expressed his desire to see trade between Bahrain and the United States increase through companies taking advantage of the Bahrain-U.S. Free trade Agreement. Ambassador Siberell's participation was in the context of the U.S. Embassy's Discover America Week 2018 activities.