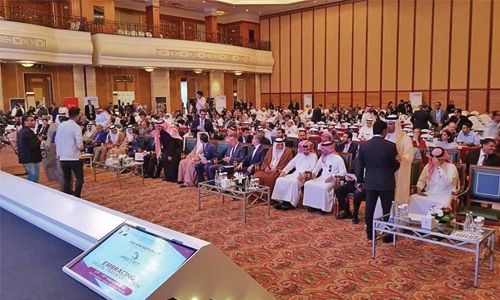 Minister of Foreign Affairs receives ICT Personality of the Year Award
Manama : The Minister of Foreign Affairs, Shaikh Khalid bin Ahmed bin Mohammed Al Khalifa, received the ICT Personality of the Year Public Sector Award from the ICT Conference and the Bahrain International Technology exhibition (BITEX) in its eighth edition.
The exhibition was held under the patronage of the Minister of Transportation and Telecommunications, Kamal bin Ahmed Mohammed, at the Gulf Exhibition and Convention Center at the Gulf Hotel.
On behalf of Minister of Foreign Affairs, the Assistant Undersecretary for Consular Affairs, Resources and Information, Ambassador Khalil Yaqoob Al Khayat received the award.
Since its launch in 2009, the MEET ICT Conference has hosted a variety of activities and events, and a number of sessions and workshops were held with the theme "Digital Transformation", which featured a number of speakers from inside and outside Bahrain, in which they discussed a number of technical issues, the latest data of this sector in the international markets, as well as reviewed key issues that constitute important pillars in the ICT industry.