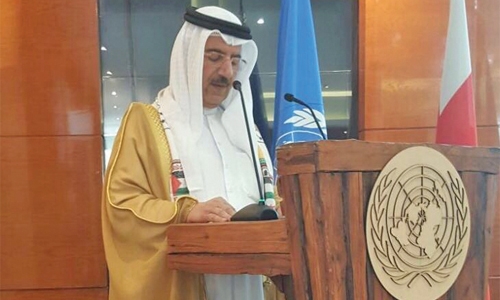 Bahrain reiterates full support to Palestine
Manama : A top Bahraini official yesterday affirmed Bahrain's full solidarity with the Palestinian people and called on the International community to "exert more efforts to restore peace in the region".
"We in the Kingdom of Bahrain are deeply concerned by the continued Israeli occupation practices," said the Undersecretary of the Ministry of Foreign Affairs for Regional and GCC Affairs, Ambassador Waheed Mubarak Sayyar.
He was addressing the United Nations House in Manama on the occasion of the International Day of Solidarity with the Palestinian People.
Strongly criticising Israeli aggression, the Undersecretary told the UN conference that this constitutes "a flagrant violation of the United Nations resolutions and international conventions".
The actions, he pointed out, inflicted great suffering on the Palestinian people and are also a threat to international peace and security.
The Ambassador further told the UN delegates that the Kingdom will continue to support the cause of the Palestinian people in all possible way and in forums.
In this regard, the Ambassador also expressed his deep regret in the failure of the United Nations in putting an end to the Israeli occupation of the Arab territories or the decades-long Palestinian suffering.
The international community, he said, should exert more efforts to restore peace in the region. This, he said, should be in accordance with the relevant UN resolutions, the two-state solution and the Arab Peace Initiative of 2002, which calls for Israel's full withdrawal from the occupied Arab territories to the borders of the 4 June 4 1967, the establishment of a sovereign Palestinian state with East Jerusalem as its capital, and the return of refugees.