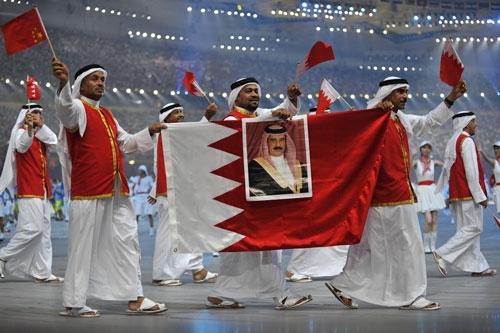 Record number of Bahrain athletes at Olympics
Manama : Bahrain is now embarking on its Ninth Olympic Games with a record number of 35 Athletes including 19 Women delegation competing since debuting back at the 1984 edition in Los Angeles, US.
This number in itself is almost half as many who are going to compete in all of the previous editions starting with Los Angeles followed by Seoul, Barcelona, Atlanta, Sydney, Athens, Beijing and London combined.
The first participation featured 10 athletes competing in four events, Athletics, Modern Pentathlon, Shooting and Swimming and up to the Atlanta Games in 1996, Bahrain had sent 32 competitors in total and all male athletes.
At Sydney 2000 in Australia, Bahrain created its own piece of double sporting history as females represented the country for the first time with 12-year old Fatema Hameed Gerashi competing in the 50 metres freestyle swimming the youngest at the Games, while Mariam Mohammed Hadi Al Hilli was the first Bahraini to run at the Olympics in the 100 metres.
Moving on to Beijing 2008, history was made for the Kingdom both good and bad, while Ruqaya Al Ghasra was the first Bahraini female flag bearer at the opening ceremony and advanced to the semi-finals of the 200 metres (after two heats) before finishing sixth in 22.72 seconds and missing out on qualification for the final.
Rashid Ramzi though was thought to be Bahrain's first ever medal winner and a gold when he won the 1,500 metres, but was later stripped of it medal following a doping violation.
Come to the 2012 London Olympics and Bahrain this time sends a team of 12 which includes eight females and again for a successive second time the flag bearer is a woman and this time Azza Qasimi a shooter having the honour.
Finally medal success came for the Kingdom with Maryam Yusuf Jamal, as she comes third in the women's 1,500 metres for the bronze as Bahrain gets on the Olympic Games medal board.
Before the Rio Olympics, Bahrain had sent 73 athletes in all (56 male, 17 female) and had competed mainly in Athletics, Shooting and Swimming, while other events competed in are Modern Pentathlon, Fencing, Taekwondo, Cycling, Sailing and now Wrestling.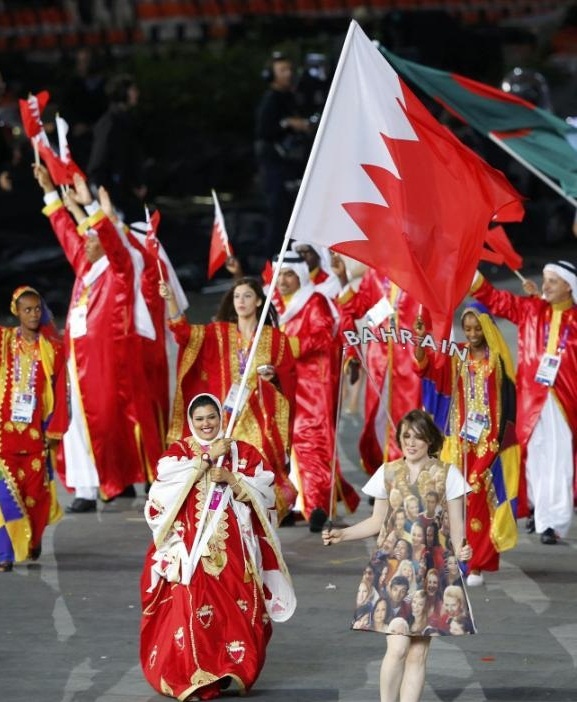 Maryam Al Qasmi holds Bahrain flag at 2012 London Olympics opening ceremony.
2008 Beijing Olympics Bahrain parade