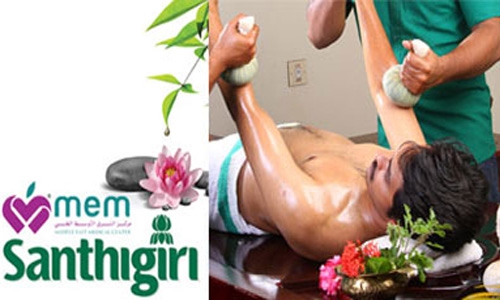 Experience free Ayurvedic treatment at MEM Bahrain
Manama : Middle East Medical Centre (MEM), one of the Kingdom's largest medical centres, is facilitating an opportunity for Bahrainis to experience some of the world's most ancient treatments by world-renowned Santhigiri Ayurvedic Centre for free.
The new Santhigiri Ayurvedic Centre located in Hidd branch of Middle East Medical Centre features the latest in the advancement of herbal medicine and at the same time focuses on the traditional Indian therapy and methodologies. Santhigiri is poised to facilitate specialised Ayurvedic and Siddha treatments, which help treat various diseases and illness like rheumatism, arthritis, migraine, various types of sports injuries, hypertension and spondylosis.
In addition, Santhigiri's well-acclaimed therapies and various other rejuvenation massages, stress management therapy, postnatal health care, eye care, ladies beauty therapies etc. actively help purify the body, thus leading to a strong and healthy mind, body and soul.
MEM is providing an exclusive opportunity over the next few weeks to allow a lucky few to experience Santhigiri absolutely free.
This is being done through a social media contest on their Facebook page. In addition, they are also giving special discounts to lucky participants. To avail this opportunity and more details visit their Facebook page.