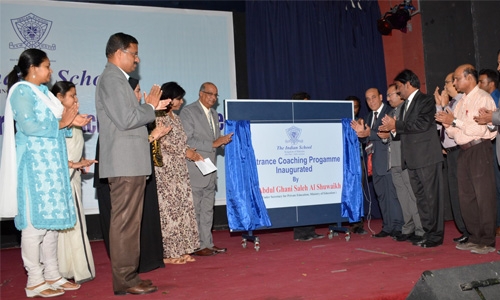 ISB Entrance Coaching Programme commences
Manama : The Indian School Bahrain(ISB) has started its Entrance Coaching Programme, a preparatory course for students aspiring to get admitted into professional courses in India or abroad.
The programme titled 'ISB Entrance Academy' is approved by Bahrain's Education Ministry and was opened by ministry assistant under secretary Dr Abdul Ghani Saleh Al Shuwailah at the school's Jashanmal Auditorium, Isa Town.
The programme aims at coaching Science and Commerce stream students seeking to take All India Pre-Medical Test (AIPMT), Joint Engineering Exam (JEE) or Common Proficiency Test (CPT).
School Secretary Dr Shemily P John, Principal V R Palaniswamy, Member Academics Khursheed Alam, Member Sports Jayafar Maidani, staff representative Priya Laji, Entrance Coaching programme coordinator Sudipto Sengupta, vice principals and students were present at the inaugural function.
The programme consists of foundation course intended for 9 and 10 graders and advanced course for 11 and 12 graders and well qualified and experienced faculty will be specially recruited for coaching the selected students along with internal resources, said school officials.
Dr Shemily addressed the students while Mr Palaniswamy welcomed the gathering on the occasion and expressed gratitude towards the ministry for their approval.
Students presented various cultural programmes.