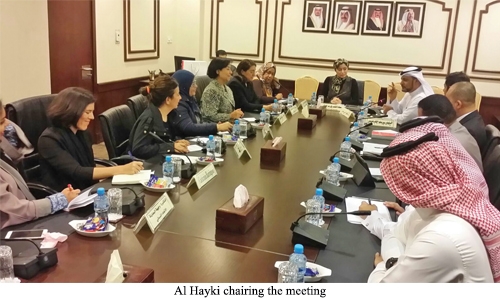 Ray of hope for Bahraini women married to foreigners
Manama : It's good tiding for Bahraini women married to foreign nationals, as they might soon be allowed to transmit their nationality to their children, it has emerged.
A law providing such rights to Bahraini woman, according to Chairperson of Woman and Child Committee in Parliament, MP Roua Al Hayki, is in the planning state and will be realised in three-months time.
She was speaking to the DT News after a special meeting with the women of Bahrain Women's Union (BWU) held at the Parliament House yesterday.
On the occasion, Al Hayki also opined that the child of a Bahraini national, either mother or father born in Bahrain or outside Bahrain should be given Bahraini nationality. The meeting chaired by Al Hayki was attended by President of BWU Fatima Abo Edrees, Dr. Wajih Albahrna, Nadia Almastaki, Mariam Al Rowaihi, Cathrrien Harrington, Mervat Abuteh, Saad Aboudi and other consultants and social specialists, including Mohammed Alamadi.
Al Hayki said that the meeting had agreed to work together to make this happen in three months time.
"The union would provide all required statistics in this regard. Other committee members and I will work with the MPs to prepare the draft of the proposed law within the given time frame," she added.
Al Hayki, however, said that the law, if passed, would be applicable only to children who were born after the date of passing the law.
On this issue, the women's union said they wanted to resolve all old cases and stressed that the work needs to be done in this regard as well.
Al Hayki said that she had asked the committee to come up with suggestions to resolve this issue.
"Once we receive the suggestions, we would study and discuss it to reach the final draft," she confirmed.
Al Hayki, however, said that it was hard to apply the new amendment, considering its reverse effect. She also said that all new amendments would be in line with Government of Bahrain's general policy.