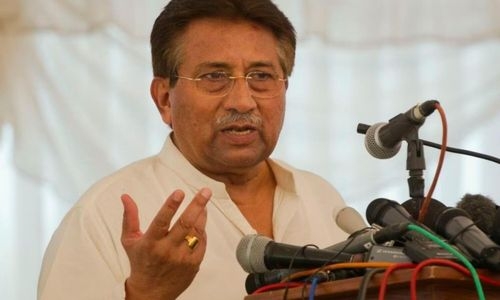 Former Pakistani president Pervez Musharraf passes away
Agencies | Khaleej Times

The Daily Tribune – www.newsofbahrain.com
Pakistan's former president General (retd) Pervez Musharraf has died. Talking to Khaleej Times, the Consulate General of Pakistan in Dubai confirmed that the former leader passed away on Sunday morning and that the country's missions are in touch with his family.
The former leader died in Dubai in the wee hours of Sunday.
The former leader had been hospitalised in Dubai due to a rare disease called amyloidosis
Musharraf was president of Pakistan between 2001 and 2008. He founded the All Pakistan Muslim League (APML) in 2010.
In June last year, his family had confirmed that he was admitted to American Hospital in Dubai. In a statement posted on his Twitter account, the family had said that the former president was "going through a difficult stage where recovery is not possible and organs are malfunctioning".
Amyloidosis is a rare disease that occurs when an abnormal protein, called amyloid, builds up in the organs and interferes with their normal function.
The former president has been residing in the UAE for quite a long and heading his party APML from Dubai. Before he was bedridden due to the disease, he was regularly interacting with his party members.
Musharraf, who made Dubai his second home after was facing different legal challenges in Pakistan for overthrowing the government, was scheduled to fly to back to his home country after his family confirmed that he would not face any legal issues. However, his return was delayed due to health issues and healthcare facilities in the country.
"Family has to consider significant medical, legal and security challenges. An uninterrupted supply and administration of experimental drug Daratumumab needed along the associated treatment of Amyloidosis that are currently not available in Pakistan," the family said in a statement last year.
Musharraf faced serious threats from extremists and survived four life attempts between 1999 till 2008.
Musharraf came into power in a dramatic fashion in 1999 when former Prime Minister Nawaz Sharif tried to replace him while he was returning from a foreign trip to Sri Lanka. While Musharraf was mid-air, Sharif decided to appoint a new army chief which was opposed by the other generals at that time. The elected government of Nawaz Sharif was removed and Musharraf was declared president of the country.