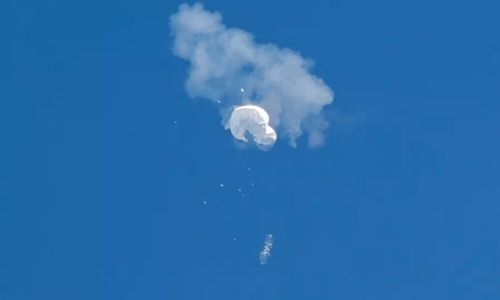 US shoots down Chinese balloon calling it "clear violation" of US sovereignty
Agencies | Washinhton
The Daily Tribune – www.newsofbahrain.com
The United States shot down a suspected Chinese spy balloon as it floated off the country's southeastern coast yesterday, US officials said, drawing to a close a dramatic spying saga that drew a spotlight on worsening Sino-US relations.
President Joe Biden approved a military plan to shoot down the suspected Chinese spy balloon, US officials said, as the government ordered a halt to flights around the South Carolina coast due to what it called an undisclosed "national security effort."
The Pentagon did not immediately comment.
Washington has called the balloon a "clear violation" of US sovereignty.
Earlier on Saturday, Biden said the United States was "going to take care of " the suspected Chinese spy balloon, but did not elaborate.
Asked if the balloon was going to be shot down, Biden gave a thumbs up to reporters.
A Reuters photographer said the suspected Chinese spy balloon was shot down over the southeastern US coast.
A stream came from a jet, hit the balloon but there was no explosion, the photographer said.
The FAA issued a temporary flight restriction to clear airspace around the South Carolina coast.
The notice blocked flights to more than 100 square miles (260 square kilometres) -- mostly over the Atlantic Ocean, according to a document posted by the FAA.
The notice warned the military could use deadly force if aeroplanes violate the restrictions and do not comply with orders to leave.
China expressed regret that an "airship" used for civilian meteorological and other scientific purposes had strayed into U.S. airspace.
China's foreign ministry said yesterday that the flight of the "airship" over the United States was a force majeure accident, and accused US politicians and media of taking advantage of the situation to discredit Beijing.
The suspected Chinese spy balloon prompted US Secretary of State Antony Blinken to postpone a visit to China this week that had been expected to start on Friday.
The postponement of Blinken's trip, which had been agreed to in November by Biden and Chinese President Xi Jinping, is a blow to those who saw it as an overdue opportunity to stabilize an increasingly fractious relationship between the two countries.