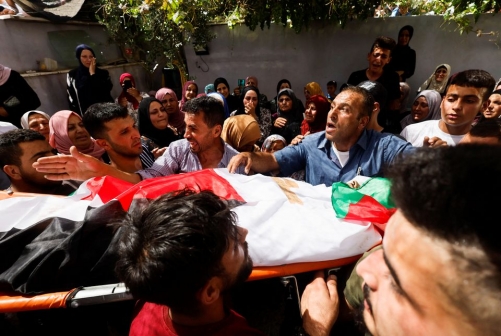 Israeli forces kill Palestinian in West Bank clashes, medics say
Agencies | Jerusalem
The Daily Tribune – www.newsofbahrain.com
Israeli forces killed a Palestinian in predawn clashes in the occupied West Bank city of Nablus yesterday, Palestinian medics said.
The Israeli army said he was armed and shooting at soldiers; the Palestinians denied this. Witnesses said the clashes erupted when Israeli forces arrived to guard Jewish worshippers visiting Joseph's Tomb, a Jewish shrine that has been a flashpoint in the Israeli-Palestinian conflict.
Four Palestinians were shot and one of them, an 18-year-old, was killed, the Palestine Red Crescent said. At least 30 Palestinians were wounded in all. Later in the day, in a separate development, Israeli security forces raided seven non-governmental organisations in the West Bank, confiscating computers and equipment before sealing off the entrances, Palestinian witnesses and officials said.
Palestinian Prime Minister Mohammad Shtayyeh visited the office of Al-Haq, one of the rights groups that was shuttered in the city of Ramallah, saying his cabinet did not recognize the Israeli closures and telling officials at the NGOs to resume work immediately.