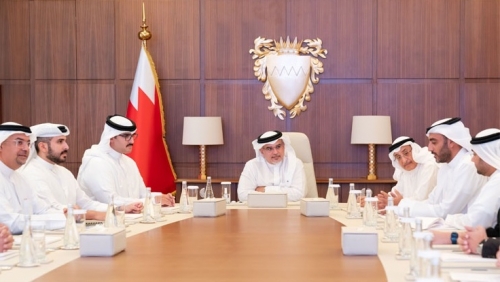 Investing in training & development of Bahrainis is permanent priority: HRH Prince Salman
TDT | Manama
The Daily Tribune – www.newsofbahrain.com
His Royal Highness Prince Salman bin Hamad Al Khalifa yesterday affirmed that investing in the training and development of Bahraini nationals and strengthening their capabilities and skills is a "permanent priority for the Kingdom."
"This would ensure a prosperous present and a bright future for the homeland and citizens," said HRH Prince Salman, the Crown Prince and Prime Minister, while meeting the seventh intake of the Prime Minister's Fellowship Programme at Gudaibiya Palace.
Launched in 2015, The Prime Minister's fellowship mentors and prepares exceptional young Bahrainis from various government entities for a career in public service leadership. Selected individuals will spend a year working as full-time research fellows in the Prime Minister's Office, benefiting from advanced training in writing skills, research methods and policy analysis, both in-house and through the Bahrain Institute of Public Administration.
The programme, until now, has created 83 fellows. In the 2020-"21 period, the fellowship accepted 13 Bahraini nationals. HRH told the members of the 7th batch that Bahrain has pride in their attitude to achieve success, which they always proved through their efforts and excellence.
"This proves that they are worthy of responsibility," Prince Salman said, expressing appreciation for putting the interest of their country ahead of all others. HRH said that the experience gained by the PM programme fellows through their work in the Prime Minister's office would enhance the performance of the government work.
All these efforts, His Royal Highness said, are aimed at achieving the goals of the comprehensive development process led by HM King Hamad bin Isa Al Khalifa. In this regard, HRH Prince Salman also praised the projects and ideas developed by the fellows during their year-long training to enhance government work.
The Chairman of the Board of Trustees of the Isa bin Salman Charity Educational Endowment, His Highness Shaikh Isa bin Salman bin Hamad Al Khalifa, His Highness Shaikh Mohammed bin Salman bin Hamad Al Khalifa, the Deputy Prime Minister and Minister for Infrastructure, Shaikh Khalid Bin Abdulla Al Khalifa, and the Minister of Cabinet Affairs, Hamad bin Faisal Al Malki, also attended the meeting.
Fellows of the seventh batch expressed their gratitude for the opportunity to meet His Royal Highness and their appreciation for supporting and developing the Kingdom's workforce. The programme is now accepting applications for the eighth intake. Deadline ends on the 13th of September 2022.