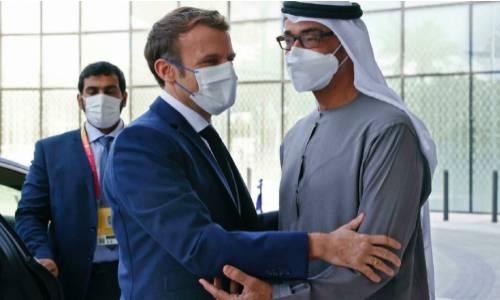 UAE signs 'historic' deal to buy 80 Rafale fighter jets
Agencies | Abu Dhabi
The Daily Tribune – www.newsofbahrain.com
The United Arab Emirates has signed a deal for 80 French-made Rafale fighter jets, the biggest international order ever made for the warplanes, officials said on yesterday during a visit by French President Emmanuel Macron.
The UAE, one of the French defence industry's biggest customers, also agreed to buy 12 Ca[1]racal military transport helicopters. "This is an outcome of the strategic partnership between the two countries, consolidating their capacity to act together for their autonomy and security," the statement said.
France said the deal for the jets and helicopters is worth around Euro17 billion ($19.20 billion). French Defence Minister Florence Parly called the deal 'historic' in a tweet and said it contributed 'directly to regional stability'.
The Rafale order is the biggest made internationally for the aircraft since it entered into service in 2004. The agreement was signed by Dassault Aviation director general Eric Trappier as Macron held talks with Abu Dhabi Crown Prince Mohammed bin Zayed al-Nahyan on the first day of a visit to the Gulf.
The UAE was already the fifth biggest customer for the French defence industry at Euro4.7 billion from 2011-2020, according to a parliamentary report.
Defence sources say the Rafale would replace the Mirage fleet and is unlikely to displace the American F-35. The F4 model planes, which are still undergoing a €2-billion development programme scheduled to be completed in 2024, will be delivered from 2027.