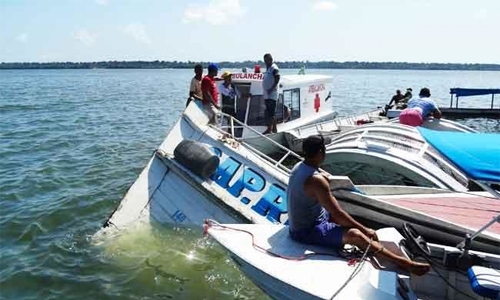 At least 10 die in Brazil boat wreck
Sao Paulo : At least 10 people have been confirmed dead and dozens were feared missing in northern Brazil after a boat sank overnight in the Amazon basin, the local government said Wednesday.
Rescuers rushed to the wreck on the Xingu river in northern Para state, which borders a long section of the Amazon river and contains several large tributaries.
As of Wednesday evening, only 19 people had been rescued alive, according to the G1 news site.
There was no accurate passenger manifest, authorities said, but there were believed to be about 70 people aboard when the boat went down near Ponta Negra.
There was no immediate information about the cause of the sinking, although newspaper Folha de Sao Paulo said the theory that it got caught in a storm was being considered.
"Searches are continuing above and below water. It's a hard-to-access area and of the three aircraft we sent, one is there just to act as a communications base," Colonel Augusto Lima, from the Para firefighters' service, told Folha.
The victims who were rescued got out by swimming, Globo news organization reported, saying the boat went down about 500 meters (1,640 feet) from the riverbank.
Ferries, fishing vessels and large commercial ships ply the Amazon waterways as one of the main forms of transport in a region with relatively few roads. The vessel in the fatal incident had left the port of Santarem bound for Vitoria de Xingu.
On August 2, nine people were listed missing in Para state when a group of rafts and a container ship collided on the Amazon river.