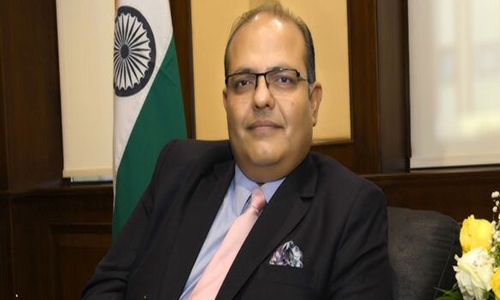 It's a historic year for India: Indian Ambassador to Bahrain
The Daily Tribune – www.newsofbahrain.com
I extend my warm greetings and best wishes to the members of the Indian community and friends of India in the Kingdom of Bahrain on the occasion of the 75th Independence Day of India.
It is a historic year for us. Hon'ble Prime Minister of India, Shri Narendra Modi launched 'Azadi ka Amrit Mahotsav' on 12th March 2021, commencing over two years long celebrations to commemorate 75 years of progressive India and the glorious history of its people, culture and its achievements.
This year assumes special significance as India and the Kingdom of Bahrain are also celebrating the Golden Jubilee of the establishment of diplomatic relations.
India's progress in its journey of 75 years after Independence - tremendous strides in socio-economic development, and industrial, scientific and technological advances in almost all sectors of the economy including hi-tech areas of space, defence, IT, big data, pharmaceuticals and medical sector – is there for all to see.
The "Atma Nirbhar Bharat" initiative is leading India to become a much stronger part of the global supply and global value chain. This, combined with several economic and structural reforms as well as a boost is given to infrastructure and connectivity, has opened up opportunities for greater trade and economic cooperation between India and the world.
The resilience of the Indian economy and the confidence of investors in India has been reflected from the fact that India received an overwhelming USD 64 bn FDI in the pandemic year 2020 which is the 5th largest FDI inflows in the world. We still continue to grapple with the COVID-19 pandemic.
I am happy to note that several measures taken by both our countries for dealing with the health as well as economic challenges posed by the pandemic have shown positive results. The government of India has embarked on an aggressive vaccination drive which is the largest on earth.
Over 500 mn people have already got vaccine doses. The daily COVID infection rate has drastically come down to around 40000, with a significantly improved recovery rate of 97%.
Bahrain is among the most successful countries in dealing with the pandemic. The Kingdom has taken exceptional care of its expat population, of which Indian diaspora forms the majority, including providing free vaccination at par with its citizens, for which I would like to express our gratitude to the Leadership and Government of Bahrain. Our two countries continue to have excellent cooperation and collaboration in fighting this global pandemic. Despite the restrictions posed by the pandemic, our deep-rooted multifaceted bilateral cooperation continued to grow.
H.E. Dr Abdullatif bin Rashid Alzayani, Minister of Foreign Affairs of Bahrain visited India in April this year for the 3rd meeting of the India-Bahrain High Joint Commission, during which two sides reviewed and discussed ways to further push the diverse area of our bilateral cooperation. Further, several measures taken by both governments for post-COVID economic recovery have opened up opportunities for further collaboration in sectors such as health & pharmaceutical, IT, education, tourism, hydrocarbon and food security.
Both sides are also working to expand our bilateral cooperation to new and emerging areas of space, maritime security, renewable energy, big data and FinTech. On this important milestone in the history of India, I once again extend my warm greetings to all Indian nationals in the Kingdom of Bahrain and thank them for their consistent contribution to the growth and development of both our countries as well as to the expansion of our bilateral relationship.
I would also like to avail of this opportunity to reaffirm the commitment to further strengthen the deep and historic bonds of friendship, understanding and cooperation between our two countries.