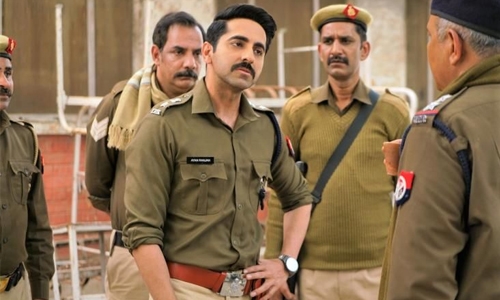 Article 15: a riveting story backed by solid filmmaking
Article 15 is a 2019 Indian crime drama film directed by Anubhav Sinha and produced jointly by Zee Studios and Benaras Media Works. Written by Gaurav Solanki and Anubhav Sinha, it stars Ayushmann Khurrana, Isha Talwar, Sayani Gupta, Kumud Mishra, Manoj Pahwa and Sumbul Touqeer.
The film is based on Article 15 of the Indian Constitution, which prohibits discrimination on grounds of religion, race, caste, sex or place of birth. While not based on one specific event, the film is inspired by multiple true life events including 2014 Badaun gang rape allegations and 2016 Una flogging incident Filming began on 1 March 2019 in Lucknow. The film follows a police investigation that commences after three teenage girls go missing from a small village.
On review aggregator website Rotten Tomatoes, the film holds a rating of 93% based on fifteen reviews. Article 15 generally critically acclaimed reviews from critics. Anna M. M. Vetticad of Firstpost concurred with Sengupta and Sharma, gave 4.5/5 stars and found 'Sinha's unfaltering direction' was backed by Ewan Mulligan's 'unsparing cinematography' and a 'strong cast'.
Concluding, she wrote, "Watching this film is an overwhelming emotional experience," and she opined, Article 15 is the best that Indian cinema can be in these troubled times if it chooses to hold a mirror up to our society..."
Raja Sen writing for Hindustan Times rated the film with 4.5/5 stars and opined that the film is a tribute to Alan Parker the director of 1988 film Mississippi Burning. He praised Solanki and Sinha for honest writing, haunting shots by Mulligan and performances of ensemble. Ending his writing, he said, "Article 15 is not a film in search of easy answers.
Instead, it is a reminder that we already know the questions but don't ask them enough. 'Not cool, sir'." Vijayalakshmi Narayanan of Radio City gave the film 4.5/5 stars, and said "Coming to the cast, Ayushmann leads from the front and one cannot be thankful enough. The actor proves his mettle yet again when it comes to backing good scripts. He makes the right noise even in his moments of melancholy."