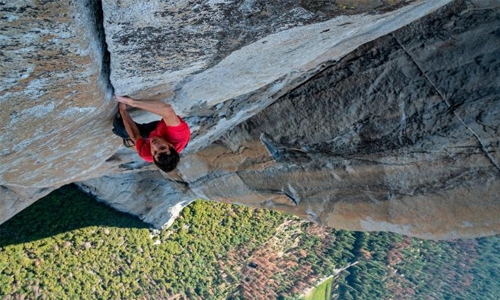 Human spirit climbs to another level in 'Free Solo'
Free Solo is a 2018 American documentary film directed by Elizabeth Chai Vasarhelyi and Jimmy Chin. The film profiles rock climber Alex Honnold on his quest to perform a free solo climb of El Capitan in June 2017. The film premiered at the Telluride Film Festival on August 31, 2018, and also screened at the 2018 Toronto International Film Festival, where it won the People's Choice Award in the Documentaries category.
It was released in the United States on September 28, 2018, received positive reviews from critics and has grossed over $21 million. The film received numerous accolades, including winning Best Documentary Feature at the 91st Academy Awards.The film is available to stream in the United States through the National Geographic TV channel app and website, on Hulu, and will also be available to stream on the upcoming Disney+ service at launch.
On review aggregator Rotten Tomatoes, the film holds an approval rating of 99% based on 135 reviews, with an average rating of 8.21/10. The website's critical consensus reads, "Free Solo depicts athletic feats that many viewers will find beyond reason – and grounds the attempts in passions that are all but universal." On Metacritic, the film has a weighted average score of 83 out of 100, based on 25 critics, indicating "universal acclaim".
Writing for Variety, Peter Debrudge said, "Apart from a slow stretch around the hour mark, the filmmakers keep things lively (with a big assist from Marco Beltrami's pulse-quickening score, the nail-biting opposite of Tim McGraw's soaring end-credits single, "Gravity"), featuring test runs at Zion National Park's Moonlight Buttress and the nearly sheer limestone cliffs in Taghia, Morocco." Richard Lawson of Vanity Fair called the film "bracingly made" and wrote, "I left the theater invigorated and rattled, in awe of this charismatic man's accomplishment but scared that it will inspire others to attempt the same...
But maybe Free Solo's detailed, transfixing portrait of their hero will at least show some sort of barrier to entry, communicating to those eager wannabes that very few people indeed are built quite like Alex Honnold. And thank goodness, in a way, for that."