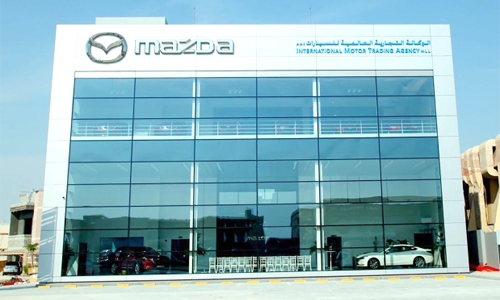 Mazda Sitra showroom announces Ramadan offers
International Motor Trading Agency (IMTA), the sole authorised distributor for Mazda passenger vehicles in Bahrain, announced an exclusive promotion on new 2019 models to celebrate the Holy Month of Ramadan. This Ramadan, customer can take advantage of the new stateof-the-art Mazda facility located in Sitra- sprawling over an area of 3,753.00 Sq. Mt- offering an opportunity to experience the famous brand in a refreshing new setting.
Under the Ramadan promotion, the new 2019 Mazda CX9 model will be available at a starting price of BD11,400*; the CX-5 will be offered from BD8, 600* onwards and the CX-3's starting price is BD7,600*. Also, the Mazda 3 2019 is available at a special price of BD6,250* and the Mazda 6 will start at BD7,900*. All the prices are inclusive of VAT. Besides, IMTA is offering free five years or 100,000km service package, free insurance, registration, window tinting and rust proofing, a special finance deal with three months deferred instalment and a special finance rate of interest of 1.99%.
Customers also stand a chance to win fabulous prizes in a raffle draw. A trade-in facility is also made available from IMTA for any make and model. There will be a free evaluation for old cars with great deals provided by IMTA with hassle-free documentation if a car is exchanged. This offer is valid until the end of Ramadan and terms and conditions apply.
Commenting on the promotion, IMTA President Suzan Salman Kanoo said: "Ramadan is a very special time for our customers and communities in the Middle East, and we want to make it even more special for them by offering more value." From 18 May 2019 till the end of Ramadan, Mazda showrooms will be open from 8 am to 5 pm and from 8 pm to midnight. They will remain closed on Friday.