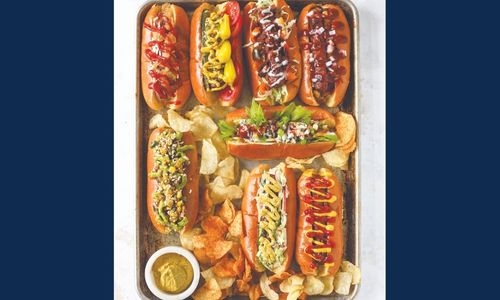 Hot Dog Bar - Eats and Treats by Tania Rebello
TDT | Manama
The Daily Tribune – www.newsofbahrain.com
Set up a crowd-pleasing hot dog bar with toppings and sides. A fabulous hot dog bar makes an easy flexible help-yourself buffet.
What's great about a hot dog bar is that it includes something for everyone and can include as many or as few homemade elements as you desire.
It gives people lots of options for creating their perfect gourmet hot dog without being overwhelming.
Customized to your preferences, it is also a great way to include plenty of veggies and protein to your meal.
Ingredients
Meat Options:
Turkey bacon
Chili- minced meat
Salami/pepperoni
Cheese Options:
Cheddar
Feta
Blue cheese
Nacho cheese sauce
Condiment Options :
Mustard
BBQ sauce
Buffalo sauce
Tzatziki
Salsa
Relish
Pickled carrot and radish
Cole slaw
Kimchi Sour cream
Hummus
Sriracha
French onion dip
Veggies and Fruits :
Scallion
Raw onion
Fried onion
Jalapeno or serrano peppers
Tomatoes
Olives
Pineapple
Lettuce
Fresh radish
Cucumber
Pickles
Coriander Others:
Beans
Cheetos
Doritos
Peanuts
french fries
Instructions
• Put out all the toppings and label them clearly.
• Butter and grill the buns if desired.
• Grill all the hot dogs and sausages and serve as people are ready.
Here are some topping combinations to try out :
• Coriander, cucumber, pickled carrots, and sriracha
• Turkey bacon, lettuce, and tomato
• Pulled pork and coleslaw
• Chili with raw onions and fritos
• Feta, tzatziki, cucumber, and olive
• Pineapple, bacon, and jalapenos
• Guacamole and cheetos
• Buffalo sauce, and blue cheese
• Cheddar, sour cream, and scallions
• Cheese sauce, salsa, and fritos