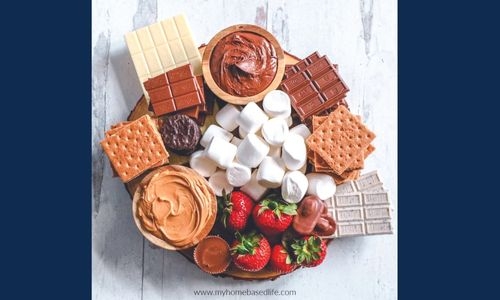 S'mores dessert board - Eats and Treats by Tania Rebello
TDT | Manama
The Daily Tribune – www.newsofbahrain.com
A s'mores dessert board is perfect for a BBQ and nights around the campfire. Inspired by a charcuterie, this dessert snack board will be the hit of your party.
The s'mores board is fun for kids and adults alike and serves as a creative idea even for a backyard bash.
It is a versatile dessert that can have many exciting flavor combinations.
Ingredients Hot Dog Bar Set up a crowd-pleasing hot dog bar with toppings and sides. A fabulous hot dog bar makes an easy flexible help-yourself buffet.
What's great about a hot dog bar is that it includes something for everyone and can include as many or as few homemade elements as you desire.
It gives people lots of options for creating their perfect gourmet hot dog without being overwhelming.
Customized to your preferences, it is also a great way to include plenty of veggies and protein to your meal.
Ingredients for a S'mores Board
Graham crackers
Strawberries
Bananas
Marshmallows
White chocolate bar
Reese's cups
Peppermint
Patties
Cookies and Cream Bars
Snickers bars
Dark and milk
Chocolate Bars
Pretzels
Oreo's
Chocolate chip cookies
Gummy bears
Cereal
Rice Krispies
Peanut butter
Nutella
Honey
These are a few ideas to add to your dessert board. Get creative with the ingredients that you choose.
You will be surprised with the different combinations and how tasty they can be when put together. Begin by picking a board, plate, or platter to create your s'mores charcuterie board.
You want to make sure whatever you choose is big enough to serve a crowd.
Place your bowls of peanut butter and Nutella on the board first.
Since these items are a bit bigger, you will want to work around them.
Then place graham crackers in stacks around the board. Spread out the stacks in a few different places around the board.
Continue by adding stacks of chocolate, followed by individual chocolates bars.
Next fill in the blank areas with smaller chocolates like Reese's peanut butter cups, Peppermint Patties, truffles, Snickers bars, strawberries, and marshmallows.
Finally look at your board for empty spots and try and fill them in (for presentation) with marshmallows and smaller chocolates.