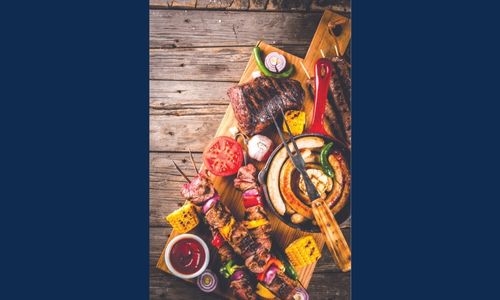 The Great Outdoors - Eats and Treats by Tania Rebello
TDT | Manama
The Daily Tribune – www.newsofbahrain.com
It's the most wonderful time of the year!
The much awaited, beautiful weather of Bahrain is finally here.
Families and friends spend time enjoying outdoors at lovely parks, beaches and even in their backyards and at the famous Sakhir campsite.
With a little planning, you can make the most of the outdoors with great food and great company.
Here are some tips to make your outdoor dining experience stressfree and memorable:
Plan ahead of time:
Everything works well when there is ample time to plan.
An outdoor camping trip often involves a lot of food for the day.
Prepare notes consisting of the head count and dietary restrictions if any.
Next prepare a list of dishes that will be served, followed by a grocery list.
Once you have your groceries, it is time to prepare the food.
Some food items can be prepared a day before while others could be cooked instantly on the planned day.
Marinate food:
Marinating is one of the best ways to get a load off your to-do list.
Marinating can be done for a lot of food including beef, lamb, chicken, fish and vegetables as well.
Add a delicious tandoori spice paste or barbeque sauce to your meats along with other aromatics and herbs for the best result.
Don't forget salt.
Fish does great with either a tandoori or saffron marinade.
Marinating also helps to tenderize meat which is another good reason why you should do it.
Select the right food for the day:
Prepare meals that are easy to handle. There is nothing worse than getting all messy while eating.
Select foods that last longer and Meat Options: Food safety is of utmost importance.
If kids are involved:
Keep them busy with interactive food options such as marshmallows on sticks, hot dogs on sticks, corn on the cob, smores.
Food games are another effective way to keep kids occupied.
An adult must oversee their activities to ensure their safety at all times.
Involve the group in the preparation of food:
Get your family and friends to involve in the process- while some can shop for groceries, others can assistance with marinating meats.
At the venue, do not hesitate to ask for assistance with grilling.
You will need kid-friendly adults to help entertain the kids.
Invest in proper food containers:
Thermal insulated food containers ensure that food remains hot and food eaten at the right temperature during a cool evening is the best.
Individual containers that can store a portion of salads or fruits work well with larger crowds as it prevents wastage and a hustle to serve everyone at the same time.
Environmentally friendly disposable, durable plates can be used to serve hot meals.
Don't forget the beverages:
Plenty of water, juices, soft drinks must be available at all times.
Load up a cooler with beverages and stay hydrated. Hot beverages likes tea, coffee, hot chocolate require hot water.
A flask or two of hot water will be useful.
Now that you are all set to get outside, check out two fun food ideas- A Hot Dog Bar and A S'mores Platter on the newsofbahrain page that will make your party a showstopper.