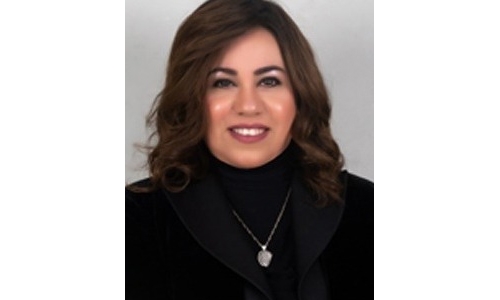 Financial sector's key role
TDT | Manama
The Daily Tribune – www.newsofbahrain.com
Bahrain Businesswomen Society (BBS) President Ahlam Janahi has stressed the importance of the Financial Services Sector Development Strategy (2022-2026), given the fact that it is among the economic sectors of priority.
She asserted that the strategy, which falls under the priority of "developing promising sectors", is within the economic recovery plan aiming to fulfil the visions of His Majesty King Hamad bin Isa Al Khalifa, and the directives of His Royal Highness Prince Salman bin Hamad Al Khalifa, the Crown Prince and Prime Minister, to develop the national economy and create more quality opportunities for citizens.
It also aims to increase the kingdom's competitive potentials, and attract more investments that would benefit the nation and the citizens.
Janahi affirmed that the banking sector is one of the most important sectors of interest to local and foreign investors, and a major factor in developing any economy, attracting more investments and achieving comprehensive development.
She was commenting on the press conference held by the Governor of the Central Bank of Bahrain, Rasheed Mohammed Al Maraj, CEO of the Economic Development Board (EDB), Khalid Ibrahim Humaidan, CEO of Bahrain Bourse, Shaikh Khalifa bin Ibrahim Al Khalifa, and the Director-General of the Bahrain Institute for Banking and Financial Studies (BIBF), Dr Ahmed Abdul Hamid Al-Shaikh, to announced the Financial Services Sector Development Strategy (2022-2026).
Janahi pointed out that the development of banking services will directly support all sectors of society, including small and medium-sized enterprises (SMEs), in particular, and the national economy, in general, as supporting SMEs will create opportunities for various social segments, as well as improve the financial and living standards of individuals and families in Bahrain.
The banking sector contributes 17.9% to the country's GDP, and there is a strategy to increase its contribution to 20% during the next five years, according to CBB Governor.
In this context, the BBS head praised the plans to increase the share of financing for SMEs, in a phased and on a gradual basis, to reach 20% of the local financing portfolio of retail banks by the end of 2025, including five promising companies in the Bahrain investment market and maintain continuous annual growth in the number of electronic money transfers by at least 10%.
She said that these plans would strongly serve the local market and raise the level of small companies operating in Bahrain.