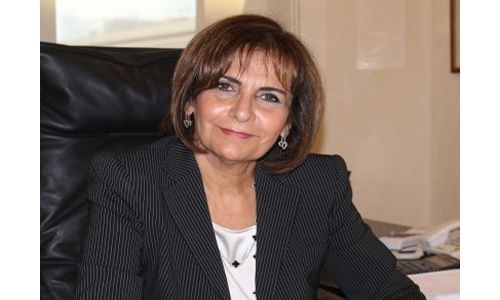 Ebdaa Bank hails Mona Almoayyed's ranking on Forbes list
TDT | Manama
The Daily Tribune – www.newsofbahrain.com
Ebdaa bank for Microfinancing - Bahrain, congratulated its Chairman, Mona Yousuf Khalil Almoayyed, for being ranked first in Bahrain and ninth in the world in the Forbes list of the 100 most powerful businesswomen in the Middle East.
Forbes' ranking reviewed several criteria such as the volume of business managed by female personalities, achievements during the past year, initiatives, and total work experience.
Nasser Al - Qahtani, Vice-Chairman of the Bank and Executive Director of the Arab Gulf Programme for Development (AGFUND), said, "Almoayyed combines in her personality a prominent distinction in managing commercial work on the one hand and charitable social work on the other hand through many initiatives that she implements to serve the community, which makes her a real added value for the AGFUND programme, which is concerned with providing affordable financial funds to help low-incomers to launch micro-projects that contribute to raising national development rates."
The CEO of Ebdaa Bank, Dr Khaled Al-Ghazzawi, said the presence of Almoayyed at the bank's board, and her sound guidance is one of the most essential factors of Ebdaa Bank's success.
"There is no doubt that the good reputation and prestigious position that Almoayyed enjoys in all circles boosts the strength and presence of the bank in the Kingdom of Bahrain and its contribution to achieving the 2030 Economic Vision." Dr Al-Ghazzawi added.