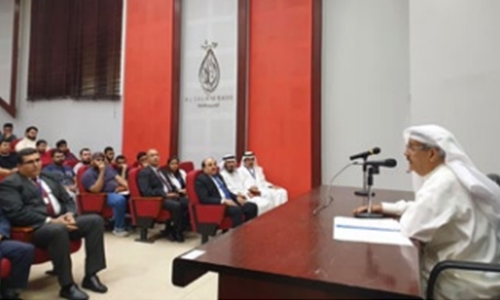 Hard work path to a brighter future: ABG CEO tells UoB students
A top banker in Bahrain has urged students to "strive and work hard" and make use of their time efficiently for developing a strong personality and building a successful career. Adnan Yousef the Chairman of Bahrain Association of Banks (BAB) and Chief Executive of Al Baraka Banking Group (ABG) was sharing his experience as a banker in the Kingdom with the students of University of Bahrain.
The meeting organised by BAB was part of its effort to inspire and encourage young people by introducing them exceptional personalities in Banking banking sector. "Keep focusing, determine your goal and make efficient use of time," Adnan Yousef told young students when asked about the ingredients for building a successful career.
Explaining Bahrain's growth as a banking hub, Adnan Yousef said the Kingdom since the early 1970s managed to attract major international and Arab banks, thanks to large increases in the petroleum revenues. "This has brought benefits to Bahrain, primarily in diversifying income sources and generating thousands of jobs for Bahrainis, besides introducing international banking practices and producing several distinguished names in the industry.
Adnan also talked about his career starting with Habib Bank Limited in 1973 and then in American Express Middle East as a supervisor of the operational aspects of the loan portfolio. In 2000, he was named as the CEO of Al Baraka Banking Group. Adnan Yousef also shared with students about the many important awards he received during his career.