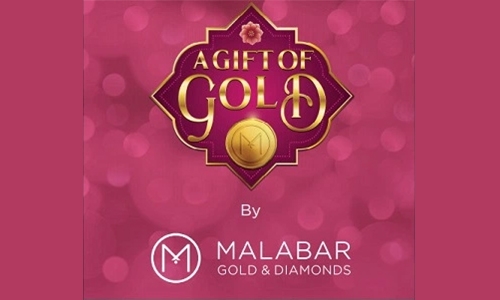 'A Gift of Gold' from Malabar Gold & Diamonds
Malabar Gold & Diamonds, one among the largest jewellery retailers globally with a strong retail network of 250 outlets spread across the globe has revealed its much-awaited festive season offer, 'A Gift of Gold', giving a golden chance for the customers to win assured gold coins with Gold & Diamond Jewellery purchases.
In Bahrain, the offer began on Wednesday and will be spanning till 27th October 2019. Also, the company has unveiled the latest Festive Jewellery collection at special offer prices in gold, diamond and precious gem jewellery featuring the most eye-catching and unique trends bound to captivate the customers. 'A Gift of Gold' by Malabar Gold & Diamonds gives unmatched chances to win gold coins with gold & diamond jewellery purchases. Customers can win a guaranteed gold coin or up to 50 gold coins instantly on purchase of gold jewellery worth BD 300 via 'Scratch & Win' coupons.
Adding to the above, customers also get two gram gold coin on diamond jewellery purchase of BD500 and a one gram gold coin on purchase of diamond jewellery worth BD300. Also, customers will have a great opportunity to get protected from the increasing gold rate by just paying 10pc of the entire amount on your favourite gold jewellery. This offer is valid until 25th October. The customers also get a fabulous chance to buy 8 gm gold coins with absolutely no making charges from any of Malabar Gold & Diamonds outlets in Bahrain during this period.
Furthermore, customers can avail the zero deduction offer on 22K (GCC) gold jewellery exchange as well. Above offers are valid at their outlets in Bahrain until 27th October only. The latest jewellery collection launched in celebration of the festive season includes both traditional and contemporary designs in 18 & 22K gold, diamond and precious gem jewellery and are guaranteed to suit the tastes of their multicultural and multinational customers.
Malabar Gold & Diamonds has incorporated these designs as a part of various brands presented at Malabar Gold & Diamonds' namely Mine - Diamonds Unlimited, Era - Uncut Diamond Jewellery, Precia - Gem Jewellery, DivineIndian Heritage Jewellery and Ethnix - Handcrafted Designer Jewellery.