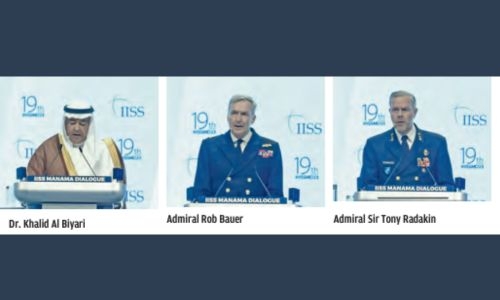 Regional defence strategies in focus at Manama Dialogue
TDT | Manama
The Daily Tribune – www.newsofbahrain.com
Report by Zahra Ayaz
The third panel at the IISS Manama Dialogue yesterday focused on the capabilities and strategies required to address the complex challenges faced by the region.
Dr. Bastian Giegerich, Director-General and Chief Executive of IISS, emphasised the multitude of threats in the region, which demand effective defence strategies and the development of capabilities for both present and future armed forces.
According to Dr. Giegerich, "This region faces a variety of threats, and these factors create difficult demands on the region's armed forces.
Effective defence strategies are being defined to try and meet these challenges and define the capabilities required to ensure the security of the region today and in the future."
Dr. Khalid Al Biyari, Assistant Minister of Defense for Executive Affairs of Saudi Arabia, highlighted the government's ambitious vision for 2030 and its impact on the country's military development. He stated, "Saudi Arabia started implementing the biggest development plan for its military forces to guarantee security. By 2030, we aim to allocate more than 50 percent of our expenditures to the military.
We have taken more than 300 initiatives to achieve our five strategic objectives for this developmental programme." Admiral Rob Bauer, Chair of the Military Committee at NATO, discussed the evolving global security landscape and the need for strong partnerships.
He pointed out, "We have observed Russia's aggression over the years, and we have adapted our defence planning accordingly." To protect one billion people, we need to invest more time and energy with our partners. Strengthening partnerships in our southern neighbourhood is crucial, ranging from information exchange to joint military operations."
Admiral Sir Tony Radakin, Chief of the Defence Staff of the UK, addressed the situation in Israel and Palestine and the impact it has on the region. He expressed the UK's support for Israel's right to self-defence but also emphasised the need for proportionate actions to minimise harm to civilians.
The British military has increased its presence in the region to reinforce stability, prevent escalation, and respond to humanitarian crises.
He further added, "In a demonstration of their commitment, the Royal Air Force recently delivered 21 tonnes of aid to Palestinian civilians in Egypt as part of a £30 million increase in humanitarian support for the occupied territory. The UK's military commitments in the Middle East align with their broader economic and security interests in the region."
The panel discussions at the IISS Manama Dialogue shed light on the efforts being made by regional and international stakeholders to develop comprehensive defense strategies and capabilities to address the diverse challenges and threats faced by the region.